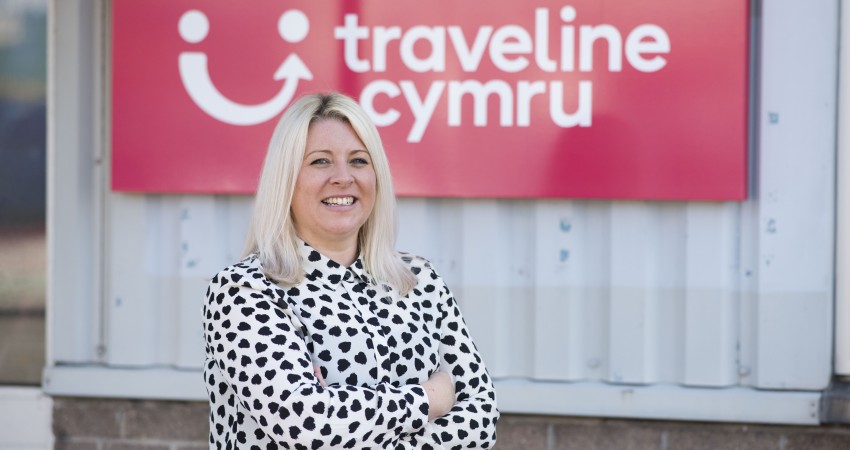 Traveline Cymru and its Managing Director shortlisted for awards
03 May 2019
---
Traveline Cymru is "delighted" to have been nominated for two prestigious business awards recognising its "pioneering" campaigns and dedicated director.
The Welsh Government's public transport information service has been shortlisted for two Arts & Business Cymru Awards (A&B Cymru Awards) with its Managing Director Jo Foxall being shortlisted for an Institute of Directors Wales Award.
The A&B Cymru Awards aim to recognise "creativity and excellence" in partnerships between business and the arts.
The business was nominated in the Arts, Business & Brand Identity category for its work with Hijinx. It commissioned the award-winning "inclusive" theatre and film makers to produce a promotional trailer for its Freephone Information Line, employing actors with a learning disability.
Traveline was also nominated in the Arts & Small Business category for its work with Hijinx and Focus Wales.  The project targeted young people who are "disengaged" with arts because of their financial circumstances, through volunteering opportunities.
Traveline Cymru is a Welsh business employing 42 people, across a site in central Cardiff and a site in Penrhyndeudraeth, North Wales.
Companies of all sizes across Wales compete to win the "prestigious" awards which will be held on Thursday 11th July at Wales Millennium Centre.
Jo Foxall, Managing Director of Traveline Cymru has also been nominated for an IOD Wales award in its Young Director of the Year category.
Jo Foxall said: "After starting at PTI Cymru in a junior role, I worked through the ranks to successfully take the helm in July 2017. Having worked within various roles in the business, I have both technical knowledge and an extensive understanding of how all areas operate and the leadership they require.
 "We are delighted to be considered for both awards and hope that being shortlisted will raise the profile of Traveline Cymru as an organisation which works on innovative, pioneering and inclusive projects. We're looking forward to the awards and are keeping everything crossed that we are successful."
Robert Lloyd Griffiths, Director of the Institute of Directors in Wales, said: "Despite really challenging times and the uncertainty of Brexit's impact on business; directors across Wales are really making their mark in guiding and inspiring their staff while supplying or providing really innovative products and services. The calibre of this year's shortlist is hugely impressive, and it was no easy task to scale back to a shortlist."
The IoD Wales Awards, which celebrate "the best of Welsh businesses and leadership", will be held on Friday, May 17th in Sophia Gardens Cricket Ground and are sponsored by Cardiff Business School.
Professor Rachel Ashworth, Dean and Head of School at Cardiff Business School, said:  "We're proud to sponsor this annual celebration of excellence in Welsh business and leadership.
"We continue to be inspired by the innovation, creativity and ambition of the nominees and look forward to the awards ceremony where their achievements - in a challenging economic environment - will be recognised.
"Despite these challenges, the nominees illustrate the significant contribution Welsh business make, not just to the economy but also to society, within Wales and the world."
Traveline Cymru provides a 'one-stop-shop' for travel information in Wales. The not-for-profit company is based on a partnership between the Welsh Government, public transport operators in Wales and Welsh local authorities. It provides route and timetable information for all bus, coach and rail services in the country via a bilingual website www.traveline.cymru, its Freephone telephone service (0800 464 00 00) and a suite of services for mobile phone users, including a bilingual app. 
Media enquiries to Rhian Richards jamjar PR on 01446 771265 or rhian@jamjar.agency
All news
Share this post