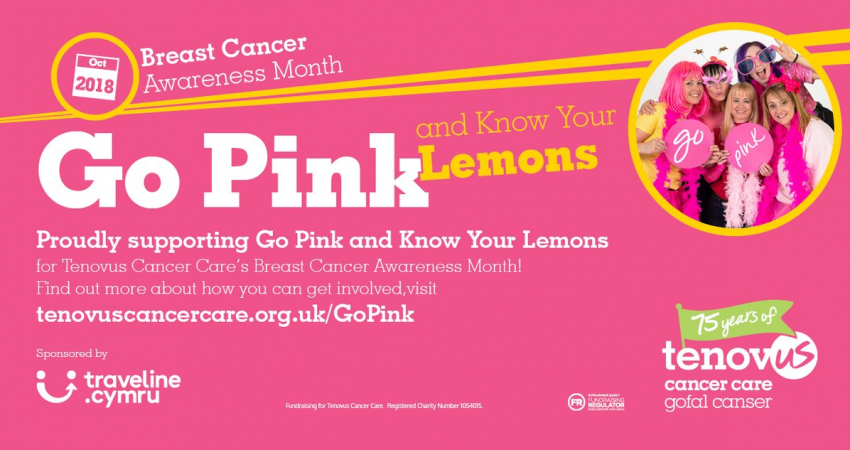 Breast Cancer Awareness Month
12 October 2018
---
This incredible campaign aims to raise awareness of the signs and symptoms of breast cancer, as well as vital funds to support those affected by it. This funding will also go towards conducting further research to prevent, diagnose and treat breast cancer.
With 55,000 people diagnosed each year in the UK, it is the most common form of cancer amongst women. However, breast cancer survival rates are improving and have almost doubled over the last 40 years in the UK.
This year, Tenovus Cancer Care are asking you to 'Go Pink' and 'Know Your Lemons'.
Whether you want to host a pink coffee morning, run a bake sale at work or school, dress up in your best fluffy pink dressing gown, or hold an event in your local community. Whatever way you choose to show your support and raise money by Going Pink will help those affected by breast cancer.
Tenovus Cancer Care also want to raise awareness of the signs and symptoms of breast cancer and are, this year, partnering with Worldwide Breast Cancer's 'Know Your Lemons' campaign. As early diagnosis can be crucial in providing effective treatment, it is vitally important to check your breasts and to know what to look for.
To find out more about how you can show your support during Breast Cancer Awareness Month, head over to Tenovus Cancer Care's website.
We will also be attending the 'Go Pink' and 'Know your Lemons' Ladies Lunch on Thursday 18th October. You can still reserve your tickets for this inspirational event online, or follow our social media pages @travelinecymru and @tenovuscancer to see updates from the day.
8 women in Wales are diagnosed with breast cancer every day. Do what you can to raise awareness, funds, and to show your support.
All news
Share this post