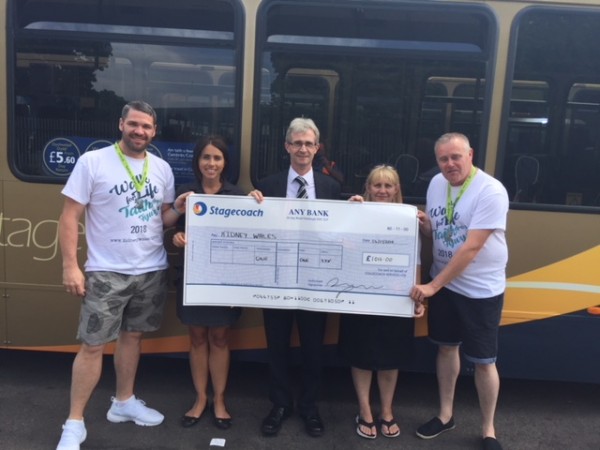 Stagecoach bus drivers participate in the Walk for Life to raise money for Kidney Wales
18 July 2018
---
Stagecoach bus drivers from Cwmbran depot participated in the Walk for Life to raise money for Kidney Wales. The total amount raised was £508 in sponsorship by drivers, Nigel Gould and Kevin Gulliford and their families, the funds raised were matched by the company to total £1016. Kidney Wales provides a high quality focused approach to fundraising for renal research, care and education which is responsive to the needs of clinical institutions, patients and their families.
The cheque was presented at Cwmbran to staff at Kidney Wales by Mark Tunstall, Operations Manager at Cwmbran and two Stagecoach drivers who participated in the fundraising event. By taking part in the Walk for Life, Stagecoach drivers, including staff, family and friends are supporting the work of Kidney Wales, which means they are making a positive difference to patients and their families.
Mark Tunstall, Operations Manager, Cwmbran depot said: "Nigel and Kevin have made a fantastic effort to support a charity that both have personal links with. I am delighted that we have been able to match what they have raised for such a worthy cause"
Nigel Winter, Managing Director for Stagecoach in South Wales said: "We are always happy to support our staff in their fundraising efforts and would like to commend them on their recent fundraising for such a good cause. Staff are constantly coming up with new ways to raise money and keep our partnership with local charities flourishing".
All news
Share this post