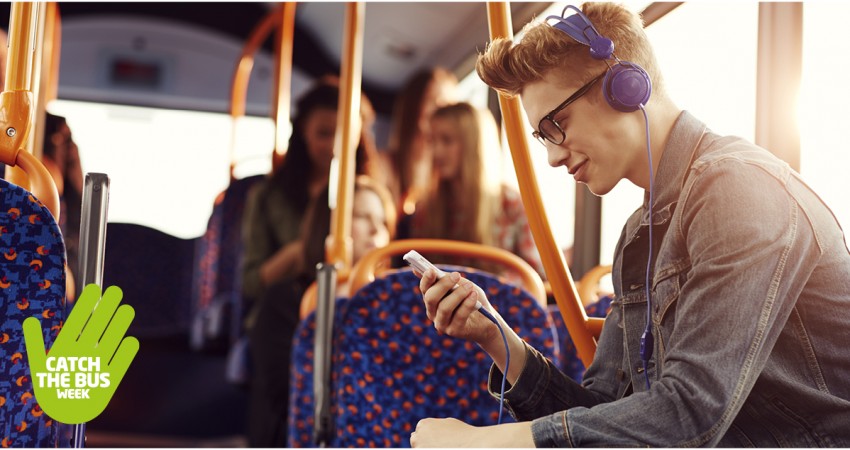 Stagecoach in South Wales promotes how taking the bus can make the best use of passengers' time during Catch the Bus Week
12 July 2018
---
Stagecoach in South Wales joined forces with sustainable transport group Greener Journeys to promote the benefits of bus use through the fifth annual 'Catch the Bus Week'.
The campaign, which took place between 2-8 July, aims to drive awareness of the benefits of taking the bus, encouraging local people to make the switch from the car for a week and consider leaving the car at home for some journeys in the future.
During Catch the Bus Week 2018, Stagecoach in South Wales carried out a programme of promotional activities across the area to encourage people to give the bus a try.
Passengers can now take easier public transport journeys with Stagecoach Bus smartphone app. The app provides customers with journey planning, next-stop information and live bus tracking, and enables people to buy and download bus tickets straight to their mobile phone.
Contactless payments were introduced in South Wales in February 2018, passengers can now hop on, tap and go on any Stagecoach bus in South Wales, making their journeys even easier.
Travelling by bus is also kinder to the environment. By choosing to take the bus rather than car, passengers are helping to reduce the amount of roadside toxic emissions. Buses and coaches have consistently emitted lowest levels of NOx for any road transport.*
Commenting on Catch the Bus Week, Nigel Winter Stagecoach in South Wales Managing Director said: "There are obvious environmental benefits of taking the bus instead of driving – but bus travel can also save people money and reduce the stress of driving and parking in busy towns and cities. Our aim is to encourage more people in South Wales to leave their cars at home and we hope people will enjoy Catch the bus week 2018."
For more information about Stagecoach UK Bus visit www.stagecoachbus.com
All news
Share this post