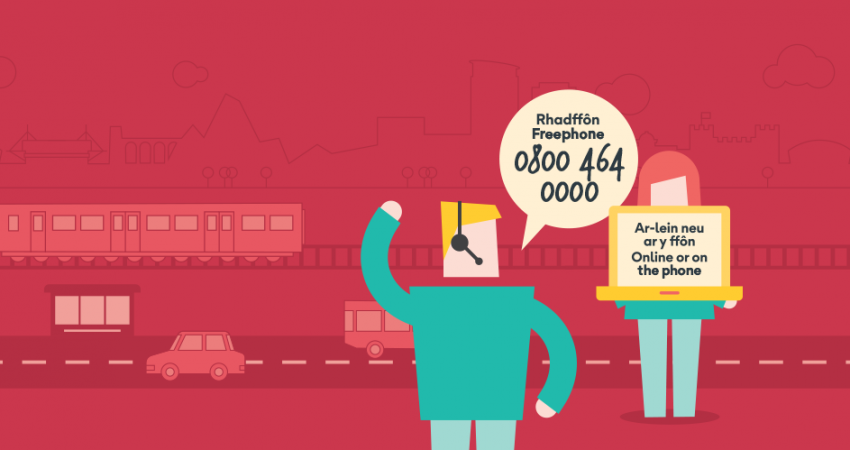 Traveline Cymru welcomes plans to improve public transport in the Valleys
29 August 2017
---
A Wales-wide public transport information service has welcomed an action plan to revitalise the south Wales valleys.
Traveline Cymru is supporting plans included within Our Valleys, Our Future to improve public transport services and accessibility across the Valleys.
Improving public services is one of three priorities for the Ministerial Taskforce for the South Wales Valleys' plan, chaired by Alun Davies AM Minister for Lifelong Learning and Welsh Language.
Delivering over five million pieces of travel information to people across Wales, Traveline Cymru understands the vital role public transport plays in many peoples' lives helping them access jobs, education, training, leisure activities, friends and family.
Jo Foxall, Director at Traveline Cymru, said:
"Public transport is absolutely critical to the fabric of Wales. Each year there are 101 million bus journeys and 20 million train journeys around Wales, allowing people to live their lives.

"We therefore support plans within the Our Valleys, Our Future proposal to improve services in the Valleys.

"Information about public transport is just as crucial as the services themselves. Without a timetable, a bus or a train is just a vehicle on wheels and getting information can often be difficult.

"This is why we work so hard to provide reliable, accessible and personalised travel information to the people of Wales wherever they are, at any given time, and at no extra cost."
In 2016 Traveline Cymru delivered 5,717,612 pieces of travel information, nearly double that of 2015. The biggest increase came from information delivered through its website, which saw it distribute over 1.5m more through this channel compared to 2015. Traveline Cymru's mobile phone app also experienced substantial growth with a 19.9% increase in usage, compared to 9.7% the previous year.
Jo continued:
"Over recent years we have invested in our website and digital channels as a result of feedback from our customer, and this is paying dividends.

"While the world becomes increasingly digital, there is still a high demand for traditional services. It's all too easy to assume that everybody has a smart phone or a computer, but we recognise that this is not the case. We have recently introduced a Freephone number to provide support to those who cannot access our online services.

"We're constantly looking at ways of improving the accessibility of transport information for everyone in Wales and we look forward to working with the Valleys taskforce to increase awareness of our offering."
Ends
Media enquiries to Shelley Phillips or Lyndsey Jenkins at jamjar PR on 01446771265 or Shelley@jamjar-pr.co.uk
All news
Share this post