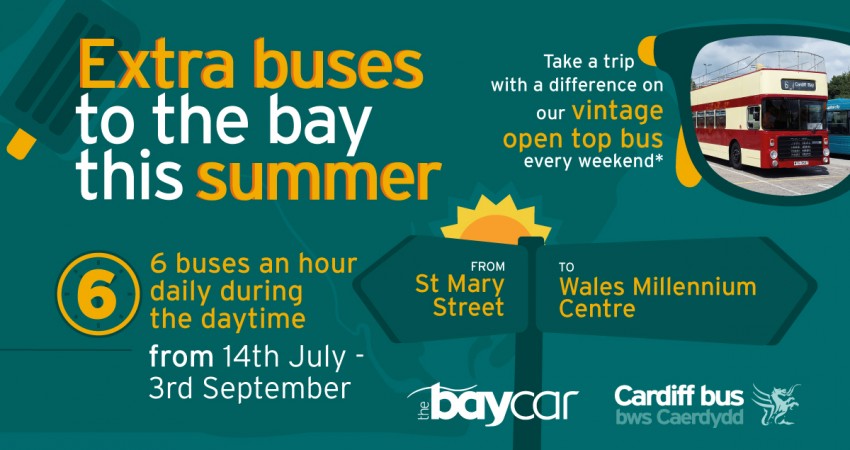 More summer baycars and Open Top buses
13 July 2017
---
Cardiff Bus are helping you make the most of Summer 2017 with extra buses running direct between the city centre and Cardiff Bay.
Not only is Cardiff Bay a popular destination due to its scenic waterfront location and numerous cafes and restaurants, but in the summer it hosts several exciting events, which start this weekend.
Whether you're looking to try something different at the International Food & Drink Festival, entertaining the children at the Cardiff Bay Beach, or looking for a thrill at Extreme Sailing Series Act 6, Cardiff Bus can get you there and back on the baycar (service 6).
In addition to the normal timetable, extra buses will run direct between St Mary Street (Wyndham Arcade) in the city centre and the Wales Millennium Centre in Cardiff Bay from Friday 14th of July until and including Sunday 3rd of September.  These additional journeys won't call at the rear of Central Station.  View the timetable here.


Open top bus
On selected dates these extra journeys will be run by a vintage Cardiff Bus open top bus painted in the classic maroon and cream it once wore.  The bus is in Cardiff Bus care for the summer thanks to Cardiff Transport Preservation Group.  Find out more about them here.
Although it's an older bus, you can still pay the same way as any other baycar bus – in cash, by iff card, iff app, concessionary pass or by contactless bank card.  Normal fares apply.
Cardiff Bus family day tickets are just £5 in Cardiff and Penarth on weekends and during local school holidays, simply purchase from the driver on your first journey of the day, or on the iff app.
Find out more about this open top bus here.
The open top bus will run on 14, 15, 16, 22, 23, 29, 30 of July and 5, 6, 11, 12, 13, 18, 19, 20, 25, 26 & 27 of August subject to weather and vehicle availability.
Story sourced from Cardiff Bus.
All news
Share this post