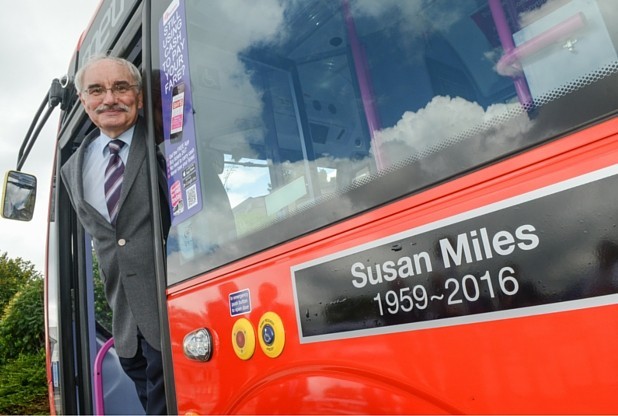 Swansea bus operator pulls out all the stops to commemorate passenger champion
26 July 2016
---
The life and achievements of a Swansea woman, who dedicated much of her time to improving transport provision in South Wales, is being marked in a unique manner by a bus operator.
Susan Miles, who lived in Sketty with her husband Stephen, sadly passed away following a short illness earlier this year. During her lifetime she'd made an enormous impact on transport planning in South Wales, holding the role of transport advisor at the Swansea Bay City Region, and the coordinator of the South West Wales Integrated Transport Consortium from 2007 until it was disbanded in 2014.
To mark her effort and dedication to others First Cymru has unveiled a bus that it has named in her honour.
The Susan Miles bus will predominately be used to operate on Service 4 in Swansea.
A number of guests were invited to the naming and unveiling of a plaque marking her achievements inside the bus, including Susan's husband, Stephen Miles.
Mr Miles said: "Susan's career was devoted to improving public transport in South Wales and she would be so proud to know this had been recognised in the naming of this bus after her. She was a unique individual who I miss every single day, but knowing that her memory lives on with others, as it does with me, is uplifting, and makes me incredibly proud too."
Justin Davies, managing director, First Cymru, added: "We wanted to do something to mark Susan's passing. She was an incredibly influential figure in transport in South and West Wales and someone we were fortunate enough to have a very special relationship with.
"She is missed by all that knew her, and so adding a plaque to one of our vehicles, and naming it after her seemed like the very least we could do."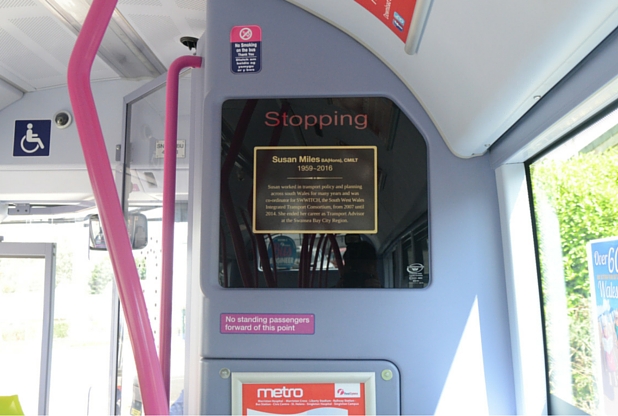 Article sourced from South Wales Evening Post.
All news
Share this post