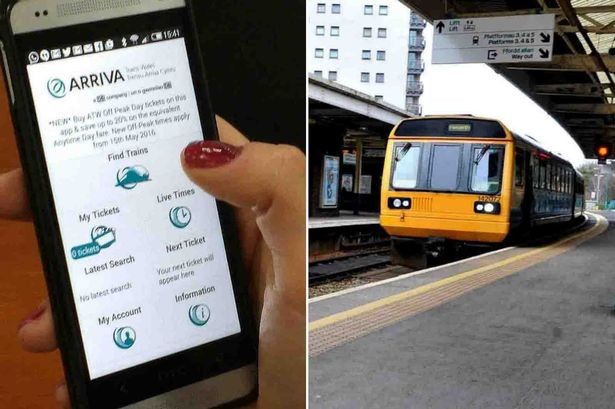 Train passengers in Wales will soon be able to use their phones as tickets
25 May 2016
---
Passengers travelling on Arriva Trains Wales services will soon be able to use tickets on their phones, allowing them to scan a digital ticket on the mobile phone at the station.
The system was trialled on Cardiff and Valleys lines last year and since then nearly 70,000 passengers have downloaded the app and used it for more than 360,000 journeys.
Customer services director Lynne Milligan said the trial of the new mobile ticketing system in South Wales was "a success" and described it as "innovative".
She added: "We are always trying to understand the needs of our passengers."
During the trial on the Cardiff and Valleys network, the mobile system was used for nearly 400,000 journeys on Arriva Trains Wales services in a 12-month period.
The company is now rolling out the system across their wider network and say it is the first of its kind in the UK.
They hope the new system, known as the mobile multi-flex ticket, will offer value for money and a more convenient way of buying tickets.
Tickets must be bought through an app and can then be scanned on mobile scanners at the station.
The company invested £250,000 in the new scanners, which are currently in place at Swansea, Cardiff Central, Cardiff Queen Street, Cathays, Bridgend and Shrewsbury.
Later this year, more will be installed at other stations including Chester, Neath, Rhyl and Hereford.
The service is now available on routes where Arriva Trains Wales sets the fare.
They say the ticket is particularly beneficial for part-time and flexitime commuters who use the train intermittently, as well as people using the train occasionally, such as those attending sporting events.
Tickets can be bought to travel between any two stations and can be stored on a smartphone for up to three months after the date of purchase.
The tickets need to be activated before travel, which can be done by a member of staff or at a barcode scanner at the gate.
For more information, visit www.arrivatrainswales.co.uk
Information & image source: Wales Online
All news
Share this post