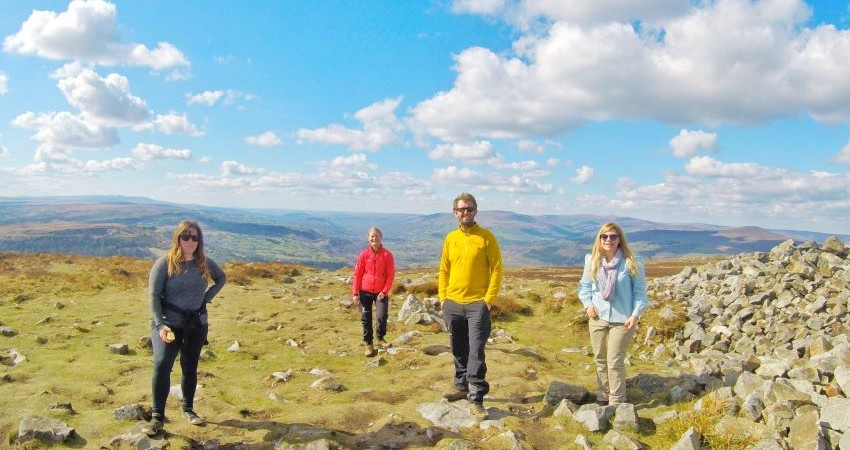 A walk along and train journey to the Cambrian Way with Ramblers Cymru
25 May 2021
---
With the easing of Covid-19 travel restrictions, many of us are seizing the opportunity to get back outdoors and safely explore the natural wonders that Wales has to offer. Ramblers Cymru's Walking Space Officer, Olie Wicks, recently hiked the Pontypool to Abergavenny stretch of the Cambrian Way with colleague Amanda, owner of outdoor adventure firm 'Wild Trail Wales' Nia and experienced travel writer Pip.
Here, Olie recounts their challenging but rewarding 12-mile hike, the scenic landscapes they encountered along the way and their positive experience of using the train to travel to and from their hiking adventure.
Working at Ramblers Cymru is filled with opportunities to head out and explore new places across Wales. This gives me the chance to engage with community-based projects led by passionate groups of people wanting to showcase their local patch, as well as discover everything Wales has to offer on long distance hiking trails such as the Cambrian Way.
Something I'd not really considered in my walking career was how the railway and public transport network can breathe life into locations across Wales; it's also a convenient and sustainable way to travel! I used to always just drive to locations for work or for personal adventures but, in light of the ongoing climate emergency, both myself and Ramblers Cymru will be exploring what public transport options are out there to help play our part in Wales' 'greener' future.
Using public transport to travel to the Cambrian Way
The Cambrian Way hiking trail spans the whole of Wales, racking up a total of 298 miles. A lot of this covers wide open rugged terrain, as well as two National Parks and open areas of mid-Wales such as the Cambrian Mountains. There are also some parts surrounded by urban environments, which seemed like a great place to try and start integrating public transport into my hiking challenges, with this being one of Wales' toughest.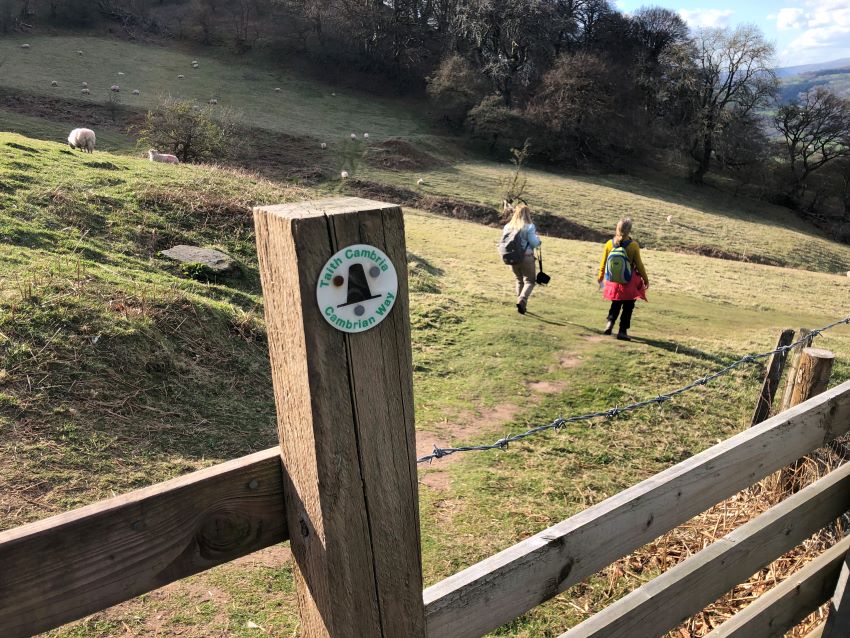 The hiking challenge at hand involved following stage 3 of the Cambrian Way trail from Pontypool over to Abergavenny – 12 miles of challenging hill walking. To explore the public transport options available to us, I invited along a few hiking pals who would be travelling from across different locations. My Ramblers Cymru colleague Amanda, Nia who is the owner of outdoor adventure firm 'Wild Trail Wales', and experienced travel writer Pip.
As everyone knows, Covid-19 has hit us all really hard, not least the public transport industry who continue to operate with restrictions in place. But what pleased me right from the start was seeing how everyone on the train from my home village wore their masks, kept their distance and were respectful of each other. This had definitely been a concern of mine but, as I changed trains at Newport and got onto a busier train to head to Pontypool, this behaviour continued and made for a safe and relaxing journey. The other major feeling that really hit home whilst getting onto the train was the experience of not having to drive, and suddenly how it really felt like I was starting out on an adventure. As I sat and watched the world go by, I was able to grab my guide book and maps, run my eye over our route and chat with the gang about what laid ahead and really look forward to the scenery of the south east valleys.
Our walking challenge
This stage of the Cambrian Way starts at the gates to Pontypool Park. After a short walk from the train station, we passed through these ornate structures and started to climb through the park to reach the historic shell grotto. This climb certainly got our lungs going, but the view that awaited us was worth it. The ridgeline at the top near the grotto gives you wide expansive views out across Torfaen and into Monmouthshire, but also down to Newport and the coast. The south east valleys are often overlooked as a destination and this section of the Cambrian Way definitely breaks that tradition.
From Pontypool Park the route starts to climb and the locally known folly comes into view. This spot again offers brilliant views across to the east, but also down through Torfaen, and really exposes the dramatic landscape of the valleys. After another short distance, the Cambrian Way really starts to challenge you as it leaves the urban environment and takes you up onto the wild ridgeway; this is where you straddle the county boundaries. For those looking to push their walking skills, this section can definitely offer you this without taking you too far from civilisation.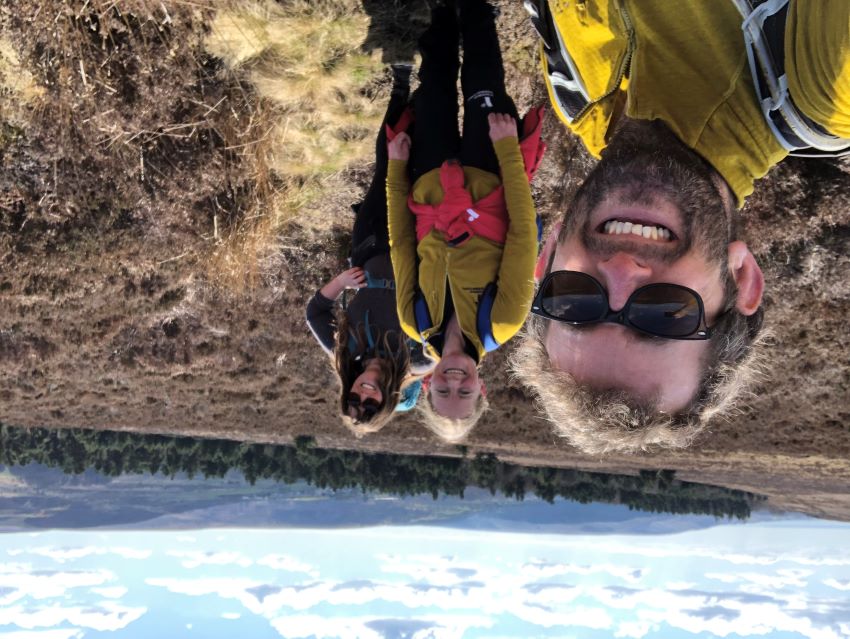 As we pushed on to Mynydd Garnwen and beyond, the beauty of the landscape took hold as we started to see the re-wilding of the post-industrial landscape and couldn't believe that we hadn't actually yet made it into the Brecon Beacons National Park. We were certainly feeling it on our feet as the terrain got heavier and the path narrowed by the encroaching vegetation. This didn't stop us though and we trudged on towards the Fox Hunter car park for a well-earned lunch break.
From here on in we had entered the National Park and made our way across to the Blorenge summit. This offered views of our final destination- Abergavenny. As we'd been walking, I'd been trying to plant some thoughts about the descent from Blorenge, as this is a notoriously difficult section of the Cambrian Way. Not only is the terrain incredibly steep, but with the bracken starting to grow, the path underfoot is near non-existent. As we reached this point, I could feel the slight doubt in all our minds as I went ahead to make a clear path. Thankfully, with some steady heads and no rushing, the group made it down safely. The descent is tough, but it does offer some spectacular views to keep you inspired, with Sugar Loaf soaring in the distance. What is also brilliant about tackling a section like this is the feeling you have when you look back up from where you came from.
The descent and heading home
From here we now had the pleasure of a slow drop through springtime sprouting woodlands and re-entry into the urban world. However, there was one more gem that I was excited to show the group. The trail heads under the Brecon and Monmouthshire Canal in spectacular and maybe slightly spooky style. As you drop down out of the woods, you're met by two houses and for a moment you definitely question yourself as to where you might be headed. There is though a waymark post and it directs you under, below and into darkness. This tunnel is a bit wet under foot and knowing you have a body of water above your head is an exhilarating feeling.
As we walked the remaining miles into the market town of Abergavenny, there was definitely a feeling of fulfilment from the hike, but also a calm relaxation as we knew we didn't have to drive home. Walking is often, rightly, headlined as way to improve your mental and physical health, but what increased the positive impact of this outing was having the train arrive and the comfort of the journey back home. What is often overlooked in the mental health discussion is taking the time to reflect on your outdoor experience. So, as we cruised back to our respective final destinations, we had the time to chat, laugh, complain about our feet and plan the next leg of our adventure!
This blog is courtesy of Olie Wicks from Ramblers Cymru.
If you need any help planning your public transport journeys to and from your next walking adventure, please use the Traveline Cymru Journey Planner or ring our contact centre team for free on 0800 464 00 00 from 7am to 8pm daily. We also have a dedicated Walking Planner and Cycling Planner to help you plan your active travel routes in and around Wales.
All blogs
Share this post