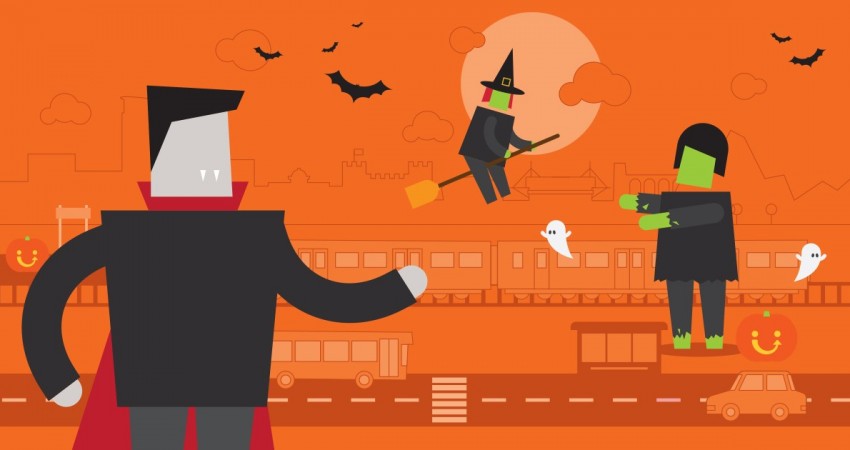 5 top tips for staying safe on your public transport travels this Halloween
21 October 2019
---
The nights are getting darker, the rich orange tones of the autumn leaves have burst into life and every supermarket is fully stocked with spooky sweet treats, costumes and pumpkins ready for carving. Halloween season is well and truly upon us and so too are the fright nights, parties and fang-tastic events that come with it.
To help make sure you have a wickedly good night, take a look at our 5 top tips for staying safe when travelling to and from your Halloween festivities by public transport.
1. Plan ahead!
Knowing the details of your bus or train journey before setting off will help avoid any long waits in the cold and dark. Using our Journey Planner, you can find the most convenient route between where you want to travel from and to at a time that best suits you.
You can also make amendments to your journey plan including the mode of transport, the number of changes you want to make and your average walking speed. This helps ensure your journey plan is specially tailored to your travelling needs.
If you already know the service number of the bus you need to use, head over to our Timetables page to access the timetable in full (this can also be added to your favourites!). You can do this on our website or app, making it easy to double check your travel information on the go.
You can find out more about the public transport planning services we offer here.
2. Check for any potential disruptions to your journey
With lots of parties, events and activities taking place, Halloween can sometimes be a cause for anti-social behaviour. The streets can also be busy with trick-or-treaters and those heading out for the evening in towns and cities.
As a result, some public transport operators may alter or divert their services to ensure the safety of passengers and staff. Any changes like this will be available to view on our disruptions page, so remember to check before you travel to avoid any unexpected changes to your journey.
3. Avoid travelling alone
Especially now that the evenings are getting darker earlier, there is safety in numbers when travelling both to and from the bus stop or train station, as well as on the bus or train itself. Why not ask to meet up with a friend going to the same event as you that you can travel with?
If you're getting back late and no one is going the same way home as you, ask to stay at a friend's house to give yourself, friends and family some piece of mind. It is also worth, if your bus stop or train station is a bit of a walk from home, asking a friend or family member to pick you up and drive you the rest of the way.
4. Stay alert and aware of your surroundings 
We're all guilty of sticking in our headphones and getting a little distracted from what's going on around us from time to time, particularly when walking along the street or travelling by bus or train.
With services being busier than normal at Halloween, it's important to be aware of your surroundings and just to keep an eye on the people around you and what they're doing. Try keeping one headphone in (or none at all!) to help you stay as alert and safe as possible on your public transport journey.
5. Have our Freephone number to hand
Run out of data, can't access any WiFi and not sure where to catch the bus or train from? If you find yourself caught out and don't have your travel information to hand, you can call our Freephone number on 0800 464 00 00 from 7am-8pm daily.
Our friendly advisors will be available to let you know when your next bus is due to arrive, where the nearest train station is or if there are any disruptions that could affect your journey. We're here to help make sure your Halloween plans go off without a hitch!
Whatever your plans, we hope you have an absolute scream this Halloween! Safe travels!
All blogs
Share this post