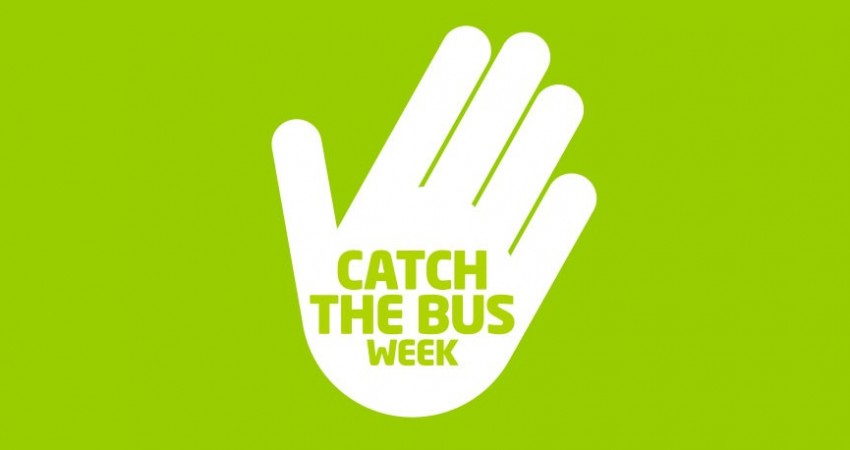 'Catch the Bus Week'- 1st-7th July 2019
26 June 2019
---
'Catch the Bus Week' (taking place between the 1st and 7th July) is a nationwide celebration of all the environmental, health, social and economic benefits of using the bus instead of your car. This is an annual campaign run by 'Greener Journeys', an organisation dedicated to promoting sustainable travel choices that we can all incorporate into our everyday lives.
This year, we are asking you to send in your best bus journey selfies to be in with a chance of winning a stunning hamper full of sustainable, zero-waste treats from our friends at Viva Organic. Want to know more? Visit our competition page!
So what exactly are the benefits of travelling by bus?
1. Buses are better for the environment than cars
Did you know that if we all simply swapped one car journey a month for a trip on the bus, there would be 1 billion fewer car journeys made on our roads? This would mean a saving of 2 million tonnes of Co2 every year, reducing the damaging impact of carbon emissions on our environment and the increasing threat of global warming.
'Catch the Bus Week' is the perfect opportunity to improve your carbon footprint by taking the bus to school, work, college, your local hospital or to meet friends. Taking the bus, rather than the car, also helps reduce congestion on the roads. With less cars of the roads, less toxic pollutants are emitted whilst drivers sit in traffic jams with their engines switched on.
2. You can save money
Taking the bus can be a savvy way to save your pennies. No more spending money on petrol, car insurance or road tax!
You'll find that a number of operators across Wales offer weekly, monthly or annual tickets that can be a fantastic money-saving option for those of you who chose to make regular journeys by bus. Head to our 'Useful Links' page to find the link to your local operator's website.
If you are over 60, you can apply for a Concessionary Travel Pass; you may also be eligible if you live with a disability, or look after someone who does. This entitles you to free bus travel within Wales (and on some cross-border services) when you show your pass to the bus driver. You can apply for your Concessionary Travel Pass on your local authority website, the links for which can be found here.
The Welsh Government also recently extended the eligibility age range for their 'Mytravelpass' scheme. If you're aged 16-21 and live in Wales, you are entitled to 1/3 off your bus fares. What are you waiting for? Apply now!
3. Help boost the economy
For every £1 spent on local bus infrastructure, more than £8 of wider economic benefits can be delivered. Whether this is to the town centres and high streets that buses provide vital access to, or the hundreds of jobs created for drivers, engineers and behind the scenes teams across Wales.
Buses also carry more commuters every day than all other forms of public transport combined. They help people, who may otherwise be unable to, travel to work in busy city centres with no parking or to other hard to reach locations.
4. Convenient and stress free travel
There's nothing worse than being stuck in traffic- pulse racing, horns honking, road rage brewing. The drive to work is only made worse by the repeated struggle to find a car parking space, followed by a desperate swoop and loop of the local side streets, a stressful parallel park and a telling off by your boss for being late.
Once you've hopped on board your local bus service, you can just sit back, relax and enjoy the ride! Take the time to feel rested and ready for the working day by reading a book, listening to your favourite podcast or catching up on that TV show you missed after falling asleep on the sofa last night.
Best of all- no parking! Simply hop off at whichever stop suits you best and you're good to go.
5. Improve your physical and mental health
It's recommended that adults aged 19 and over do 150 'active minutes' a week (around 30 minutes a day). In the hustle and bustle of day to day life, it may feel difficult to find the time for any type of exercise. However, a brisk walk to and from your bus stop everyday will set you well on your way to those 30 active minutes. You could even get off the bus a few stops before your destination to increase your step count, heart rate and physical activity!
New research shows that we often underestimate the positive and powerful impact of talking to strangers on our wellbeing (BBC). Your local bus service is the ideal place chat to someone new, helping to build your sense of community and reduce either your own or someone else's feelings of loneliness and isolation. Taking the bus can also help you feel more independent as you grow increasingly confident to travel alone.
There are lots of ways to get involved in 'Catch the Bus Week':
Enter our 'Catch the Bus Week' selfie competition.
Run your own competition at school, work or with your friends to see who can make the most journeys by bus by the end of the week.
Keep an eye on your local bus operator's social media accounts to see if they are running any events and activities.
Join the conversation on social media using the hashtag #CTBW and follow @GreenerJourneys on Twitter for updates throughout the campaign.
Visit the Greener Journeys and Catch the Bus Week websites for more information.
Need some help planning your bus journey?
You've come to the right place!
Using our Journey Planner, you can plan your journey from A to B with details on bus stops and times, as well as an interactive map of the journey so you can see exactly where you need to go. You can also use our 'Bus Stop Finder' to find your nearest stop and its next scheduled departures.
Know what bus number you're catching? Our Timetables page can help you find the full timetable you need for a service; you can also download the PDF version of the timetable to print and take with you on your journey.
All of this information can also be accessed via our Traveline Cymru app, available on iOS and Android devices.
We also have a Freephone enquiry line, where one of our advisors will be on hand to answer your public transport information queries and help you plan your bus journey. You can give them a ring on 0800 464 00 00 any day of the week from 7am-8pm.
All blogs
Share this post