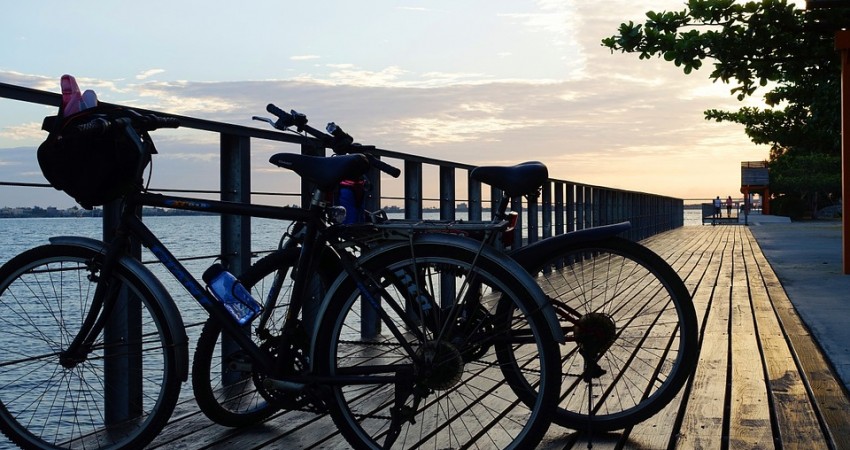 Why you should #GetOnYourBike with Traveline Cymru this Easter!
11 April 2019
---
Our Cycle Planner will show you step-by-step instructions for making your journey, alongside other useful pieces of information to help you prepare for what the route will be like in advance.
Share your selfies or scenic snaps from before or after your cycling journey (or when you make stops along the way) on our social media channels.
Across the UK, it is estimated that 3.27 billion miles were cycled in 2017, a 29% increase from 20 years ago. Cycling is a great way to travel for both rural and city dwellers, not least for the physical, mental, and environmental benefits of making your journey on two wheels.
This Easter (and beyond!), we want you to #GetOnYourBike with the help of our Cycle Planner tool. Whether you and the kids want to go on an Easter cycling adventure, tackle the morning commute by bike, are a visitor to Wales wanting an alternative way to explore the beautiful Welsh scenery, or are thinking about letting the kids cycle to school next term. Let us help you get there!
Have a read of some of our top reasons for making your journey by bike this Easter, and how the Traveline Cymru Cycle Planner (accessed via the cycle icon at the top of our Journey Planner) can help you plan your journey with ease:  
1. An easy way to increase your daily physical activity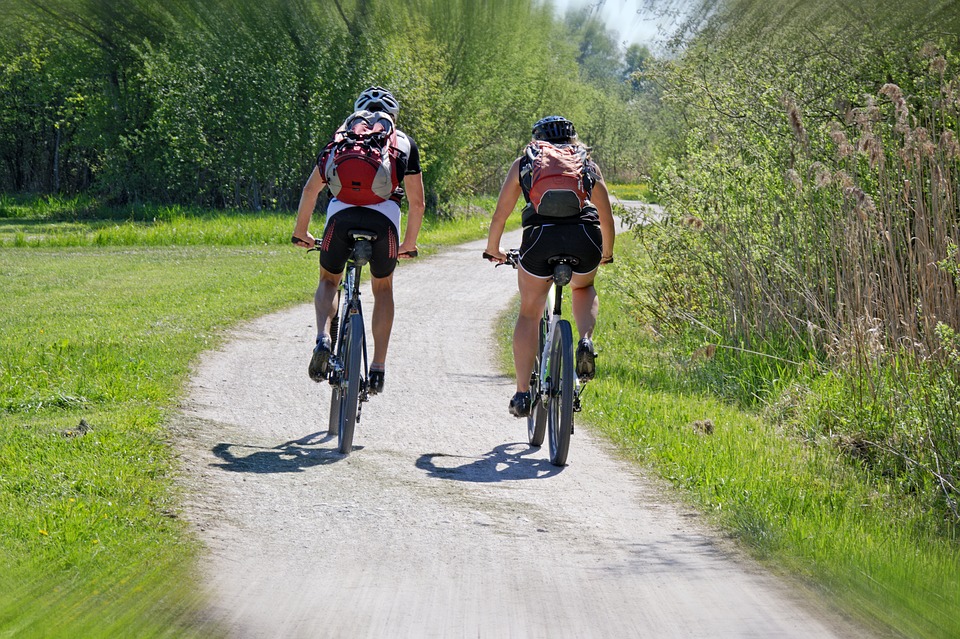 The government recommends that an adult should undertake 150 minutes of moderate exercise a week, whilst children should have 60 active minutes a day. However, for many of us, this may not feel achievable in the busy hustle and bustle of day-to-day life.
Choosing to make some of your journeys by bike is a great way to integrate exercise into your everyday routines. This could be on the commute to work, as an alternative way for the kids to get to school next term, or to visit your local high street or park at the weekend. It really is that simple!
As cycling is a low impact physical activity, it is suitable for those with a wide range of physical skills and abilities. It is also a fantastic form of exercise for keeping your heart healthy, strengthening your bones and muscles, and improving your posture and coordination.
On the Traveline Cymru Cycle Planner, you can discover the estimated number of calories burnt on your route. Simply type in where you want to travel from and to and we will show you step-by-step directions for making your journey. The estimated number of calories burnt will be displayed on the left hand side of the page, helping you keep track of the physical benefits of making your journey by bike.
2. Exercise can help boost mental health and well-being
Deadlines at work or university, looming GCSE or A-level exams after the Easter break, or struggles in your everyday life can often feel overwhelming. As mental health becomes an increasingly important topic of conversation in today's society, so too are the benefits of regular exercise for boosting mental well-being. So much so, four times more GPs prescribe exercise as their most common treatment for depression compared to three years ago.
Cycling is an activity that can be taken at your own pace. You can cycle by yourself or as a member of a group, giving you the opportunity to spend some time alone or socialise with friends. Travelling to work or to meet with friends and family by bike is also the ideal time clear your mind and set yourself up for the day ahead. All you have to focus on is the journey at hand, away from the stresses of everyday life.
Even if you only feel like making a short journey to gather your thoughts, we can help you get there. Knowing your route details in full before setting off, including expected arrival times and how congested the route is likely to be, will help you feel fully prepared for your journey.
3. Reduce your carbon footprint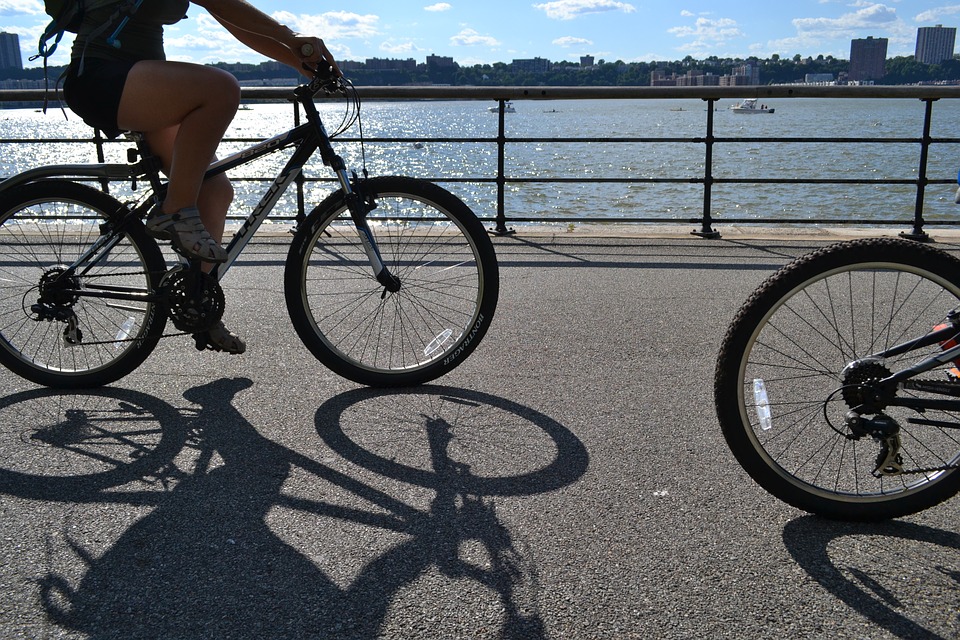 Ever wondered how much Co2 is created when making your journey to work by car? How about when dropping the kids to a friend's house? Or going to the cinema for an Easter treat?
Using our Cycle Planner tool, you can now see how much Co2 you could save by making your journey by bike. Once you have searched where you want to travel from and to, take a look at the information box on the left hand side of the page. The results my surprise you!
A litre of petrol creates around 2.3kg of Co2. Choosing to travel by bike (particularly for shorter, everyday trips) can help reduce your carbon footprint and the impact of carbon emissions on the environment. Air pollution is also a major health and environmental risk, particularly in urban areas. Cars are the biggest contributors to air pollutants, so cycling is a great alternative to help reduce your contribution to rising air pollution levels, and help protect the health of future generations. 
4. No more taxi of Mum and Dad!
Travelling by bike is a fantastic gateway to independence. Whether you are letting the kids cycle to a friend's house alone, planning a big biking adventure for the Easter break, or encouraging them to travel on two wheels next term.
Using our Cycle Planner tool, you can access a range of details and useful information about an upcoming journey. This will help your child feel prepared- and give you piece of mind- for what their journey is expected to be like. Here are some of the features that you will find on your Cycle Planner results page:
How long the journey will take. This means that you will know what time they should be arriving at their destination (and can check in on them if they have forgotten to send a text saying they will be late!), and they can leave plenty of time for their journey.
How congested the route is. Depending on how old your child is and how comfortable they are travelling by bike, a highly congested route may not be the best journey option for them. Knowing this beforehand means you can plan in advance and make alternative arrangements.
The Elevation profile. This shows how much the route inclines or declines. Maybe have a chat with your child to see if they would feel comfortable cycling on a particularly steep route, or one where there is lots of dips or hills.
You can be safe in the knowledge that they will know exactly where to go by following our step by step instructions, which they can print (alongside a map of their route) and take with them.
Last year, we collaborated with Nation Radio for their road safety promotion campaign 'Be Safe Be Seen'. As part of this, we created a blog giving our top safety tips for travelling by bike in the winter. We may be heading into the warmer months, but the same safety tips still apply! You can read the blog post here. 
5. Save your time and money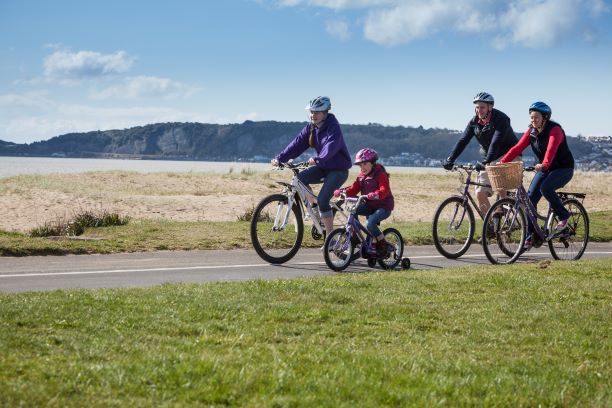 During rush-hour traffic, travelling by bike can be twice as fast as making your journey by car, allowing you to spend more time on the things that really matter (which doesn't include listening to the kids, and grown ups, say 'are we there yet?' every 5 minutes from the back of the car!) 
Make the most of the time you have this Easter and round up your friends, family, and neighbours for an epic outdoor adventure. Grab your bike helmets, put on that reflective clothing, and ditch the car in favour of an outing on 2 wheels! Whether you fancy a journey around Cardiff on a Nextbike, or a more scenic rural route through Brecon or Snowdonia. We can help you get there!
You can also avoid the dreaded swoop-loop-repeat routine in the car park in desperate search of a parking space, instead locking your bike up securely at one of the many bike racks available in public spaces and buildings across Wales. No car, no parking, no cost! Making these journeys by bike will also help you save money on petrol that can instead be spent on treating the kids (or yourself!).
We would love to see and hear how you get on using the Traveline Cymru Cycle Planner this Easter, and there are lots of ways you can get in touch! Share your selfies or scenic snaps from before or after your cycling journey (or when you make stops along the way) on our social media channels.
If you use Twitter or Instagram, use the hashtag #GetOnYourBike and tag us @TravelineCymru
If you use Facebook, you can message us with your cycling photos via our Traveline Cymru page.
Alternatively, you can email us on feedback@traveline.cymru
We will share some of our favourites across our social media platforms!
Happy Easter from the Traveline Cymru team!
All blogs
Share this post