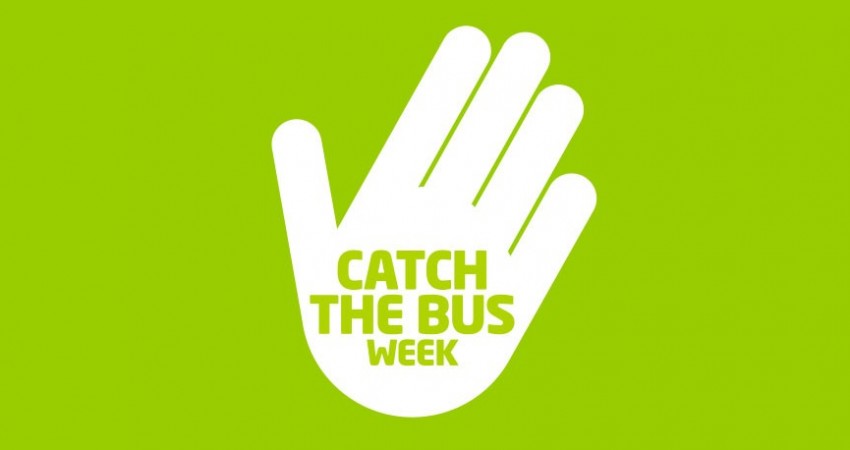 Catch the Bus Week 2016
04 July 2016
---
Now in its fourth year running, we're excited to see the return of Catch the Bus Week, an initiative run by Greener Journeys which celebrates and drives awareness of the benefits of catching the bus.
Catch the Bus Week is taking place from the 4th – 10th July 2016, and it provides a great opportunity for us all to consider the way we travel. By bringing the positives of catching the bus to light, Catch the Bus Week activities aim to ultimately help us make a longer term travel change for the better.
Our team at Traveline Cymru will be out at a number of events this week helping to celebrate Catch the Bus Week, including the Risca Summer Festival on Saturday 9th July and the following events during the week ahead:
Tuesday 5th July
Your Bus Matters event with NAT Group
10:00 – 14:00 @ King's Square, Barry
Wednesday 6th July
Bus Users Surgery with Cardiff Bus
09:30 – 13:30 @ St. David's Hall, Cardiff
Come along and see us for help and information on planning your bus journey, where we can help you discover how to find the bus timetables you need, advice on using our journey planner and much more! We believe that bus travel can really help make a difference to our surroundings and that by taking up the bus for some of our journeys, we can truly enjoy the benefits that it has to offer.
With almost 2.5 million people all around Britain travelling to work by bus, bus travel is a huge part of people's everyday lives and provides an affordable and sustainable way for us to make our way around.


Why Should I Catch the Bus?


Reduce your stress and improve your health.
We all know the feeling of being stuck in traffic on a busy commuting morning, or being worried about finding the perfect car parking space when going into town. Catching the bus allows you to sit back and relax whilst letting the driver take over, and being able to hop off the bus at whichever stop suits you best.
To improve your carbon footprint.
Did you know..? If everyone switched just one car journey a month to bus, that would mean one billion fewer car journeys on our roads and a saving of two million tonnes of CO2.* Why not use Catch the Bus Week to see if you can swap one of your car journeys to the bus this week? You may even discover an easier way of travelling you hadn't considered before!
Many operators around the country provide weekly or monthly tickets deals, helping you to save money for regular journeys.
Over 60? You can apply for your own concessionary travel pass from your local council for free bus travel around Wales!
Throughout the week, you can expect to see plenty of events taking place celebrating the initiative, including ticket giveaways, competitions, activities and much more. Take a look below what some operators in Wales are getting up to this week and how you can get involved!


Cardiff Bus
Cardiff Bus have a calendar of exciting activities taking place right throughout the week all in celebration of Catch the Bus Week.
Monday 4th July
There will be some exciting prizes to give away on social media, and Cardiff Bus will be posting some interesting facts relating to Catch the Bus Week. Follow them @Cardiffbus.
Tuesday 5th July
Cardiff Bus will be at Bus Users Cymru's surgery at King Square in Barry between 10:00 and 14:00. Find out more by clicking here.
Wednesday 6th July
Cardiff Bus will be at Bus User Cymru's surgery at St David's Hall in Cardiff between 09:30 - 13:30.  Find out more by clicking here.
Thursday 7th July
There will be some exciting prizes that Cardiff Bus will be giving away on social media.
Friday 8th July
Cardiff Bus will be in Working Street in Cardiff city centre with some goodies to giveaway.



First Cymru
On Friday 8th July between 9am – 3pm, managers, bus drivers and safety representatives from First Cymru will be on hand in the Quadrant Bus Station in Swansea to talk to customers about how to catch the bus and stay safe whilst on board. Having partnered with Age Cymru Swansea Bay for the event, First Cymru staff will also be explaining how to use the company's website – finding useful timetable and service disruption information – while representatives from Age Cymru Swansea Bay use the event to talk to older people about how to stay safe while using the internet. 
Mike Gibbons, Safety Manager for First Cymru and organiser of the company's Catch the Bus Week activity, says: "We're thrilled to be taking part in Catch the Bus week. We'll have a team of people out on Friday 8 July to talk to our customers about our local services, and how to make the best use of them.  A fair proportion of those people using the bus are older too and so the association with Age Cymru Swansea Bay is a mutually beneficial one. They will be offering tips on how to be internet savvy and to compliment this we'll be explaining how people can get the most out of our own website. We hope people will find it a useful event." 

Nicola Russell-Brooks, CEO, Age Cymru Swansea Bay, says: "Many older people rely on public transport to get out and about in their communities. We know that the buses in Swansea are hugely important to local older people and can really help to enhance their lives. We are pleased to be working with First Cymru to ensure that bus services in Swansea continue to meet the needs of local older people."  
For more information, please click here or visit First Cymru.



New Adventure Travel
N.A.T Group will be running a number of events during Catch the Bus Week to talk to existing customers and to encourage new users. Passengers will be able to meet with N.A.T Group representatives at a number of different locations right throughout the week.
Please click here for more information on the N.A.T Group events taking place.



Stagecoach Bus
Stagecoach in South Wales are carrying out a programme of promotional activities across the area to encourage people to give the bus a try. These will include:
Twitter picture competition; passengers that tweet @StagecoachWales with a picture travelling on their services for one week will get entered into a draw to win a month's free travel.
Seven places to visit on the bus in a new location will be tweeted out every day (including a picture) giving customers an idea of where to travel.
CTBW tips will be tweeted out every day. Follow Stagecoach on Twitter @StagecoachWales to follow their tweets throughout the week!
Stagecoach will be attending the Cardiff Bus Surgery event on Wednesday 6th July to promote bus use and highlight that it is great value for money.
Meet the buses day – Stagecoach's new info bus will go to the following locations and they will be handing out goodies as well as offering discounted travel on the day.
Stagecoach will also be at the following locations:
Market Square, Blackwood on Monday 4th July
Mill Street, Pontypridd on Thursday 7th July
Research carried out by Stagecoach earlier this year looked at the cost of around 35 key commuter routes in England, Scotland and Wales. It compared the weekly price of hopping on the bus with the cost of fuel and car parking for the same journeys.
The research found commuters can save an average of around £1,000 per year by catching the bus instead of travelling to work by car - despite falling fuel prices at the pumps. Bus travel costs are around 55% cheaper than the same commute by car, saving passengers an average of more than £90 a month, according to the study.
Economic benefits
Buses are a vital driver of economic growth in the UK. Every £1 invested in bus infrastructure generates up to £7 of economic benefit.
Bus users generates £64 billion of benefits to the UK economy
Congestion costs the UK economy at least £11 million each year
Health benefits
Travelling by bus is good for your health. It is a third less stressful than commuting by car
Taking the bus frees your hands and you head. Allowing you to catch up on life admin, read a book or play games on your mobile- all whilst you get to your destination
Walking to the bus stop can, on average, help you to achieve half of the Government's recommended 30 minutes of exercise per day
Environmental benefits
In 2015, low carbon emission buses saved nearly 70,000 tonnes of CO2 compared with their standard diesel equivalents
Buses are vital to improving air quality. The latest models deliver a 95% reduction in NOx emissions compared with 2009 bus models
Commenting on Catch the Bus Week, Nigel Winter Stagecoach in South Wales Managing Director said: "There are obvious environmental benefits of taking the bus instead of driving – but bus travel can also save people money and reduce the stress of driving and parking in busy towns and cities. Our aim is to encourage more people in South Wales to leave their cars at home and we hope people will enjoy Catch the bus week 2016."
Claire Haigh, Chief Executive of Greener Journeys, commented: "Once again, we are delighted to see the entire bus sector coming together to promote the benefits of the bus. From dance troupes on buses, to radio shows broadcast live from the top deck, we are always bowled over by the sheer breadth and scale of the creativity on show during the week, and 2016 is proving to be no different. The bus provides a vital lifeline for the youngest and oldest in society, so it is fantastic to see its worth celebrated in such extravagant fashion."
All information provided by Stagecoach in South Wales.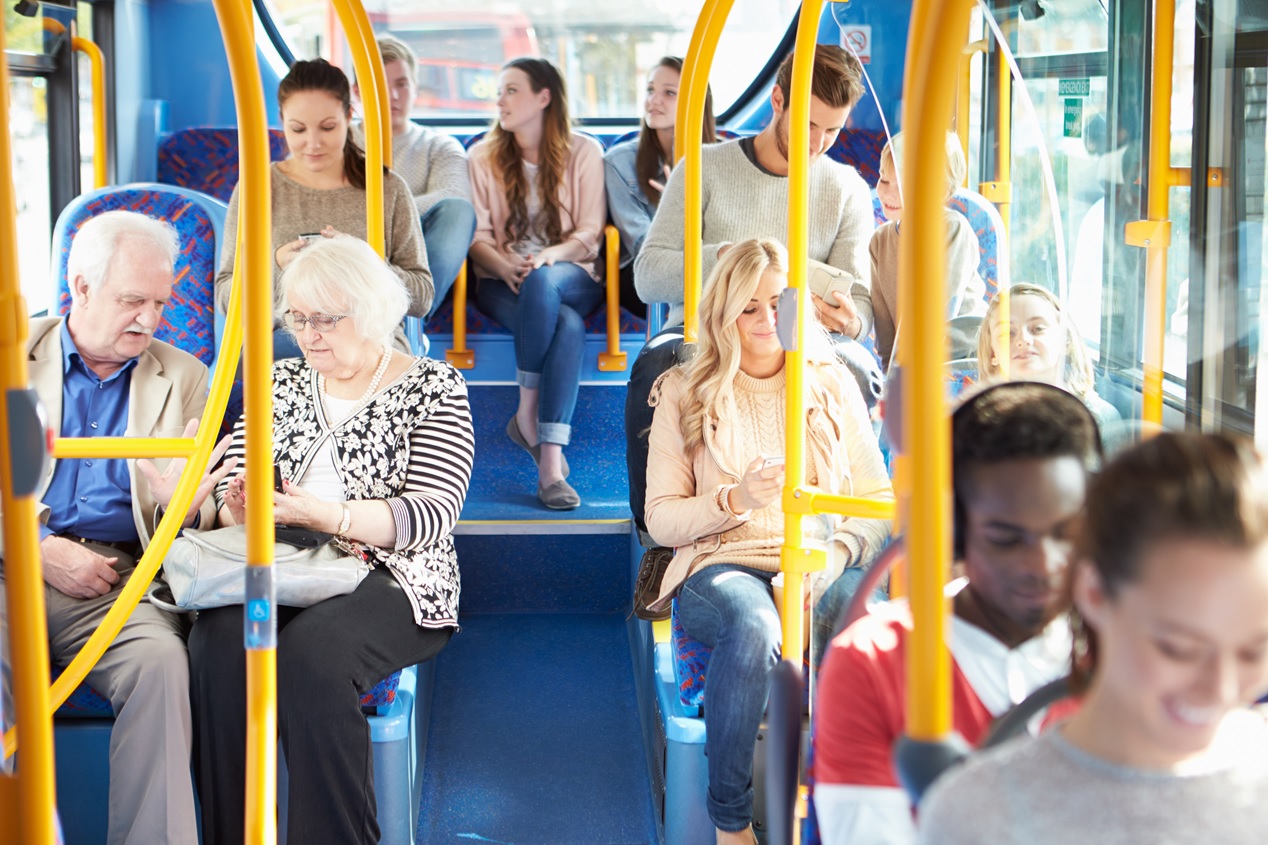 How Else Can I Get Involved in Catch the Bus Week?
Greener Journeys are calling on everyone to get involved in Catch the Bus Week and there are plenty of exiting ways in which you can do so!
Get together with a few of your friends or colleagues and run your own Catch the Bus Week promotion – perhaps you could run a competition to see who makes the most bus journeys by the end of the week?
Get in touch with your local bus company to find out more about their activities and how you can get involved.
Join the conversation on social media using the hashtag #CTBW and follow @GreenerJourneys on Twitter for updates throughout the campaign.
For more ideas and information about how you can get involved, please visit the Catch the Bus Week website here for everything you'll need to get started!


Going to Give the Bus a Go This Week?
Then you've come to the right place! By heading to our Journey Planner here, you will be able to plan your journey to see all the available bus routes you can take, with details on bus stops and times, as well as an interactive map of the journey so you can see exactly where you need to go.
Know what bus number you're catching? Our Timetables page can help you find the full timetable you need for a service; you can also download the PDF version of the timetable to print and take with you on your journey if you wish.
Let us know if you're getting involved with Catch the Bus Week and if you're thinking of giving some bus journeys a go over on Twitter @TravelineCymru and remember to use the hashtag #CTBW!
* Fact sourced from Catch the Bus Week.
All blogs
Share this post