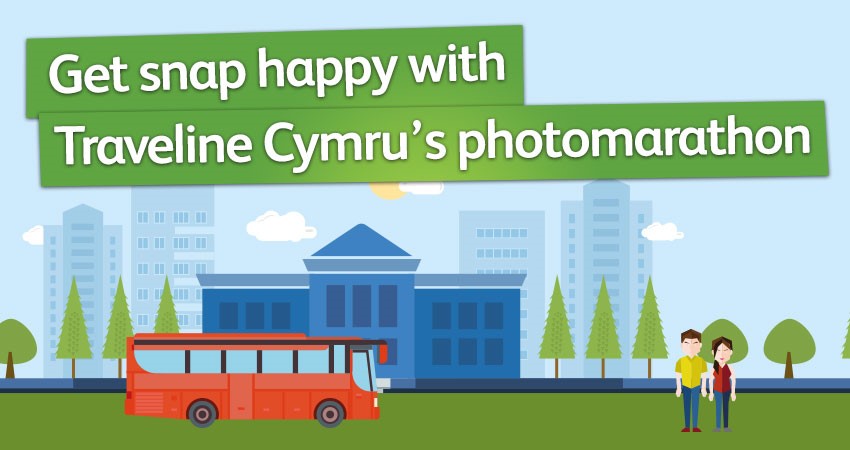 Get snap happy with our Photomarathon competition
06 April 2016
---
Get snapping and win £100 shopping voucher
To celebrate the launch of its myunijourney website for Swansea University staff and students, Traveline Cymru is organising a photomarathon on Saturday 23rd April 2016 with the chance of winning a £100 shopping voucher.
What is it?
A photomarathon is a photography competition with a twist. Over 12 hours you have to take 12 pictures on 12 given topics.
What happens?
Topics will be released at four hourly intervals throughout the day via Traveline Cymru's social media channels using #myunijourneyswansea and all you have to do is let your creative juices flow and take a photo (with your phone or a camera) that you think symbolises that topic.
3 themes will be released on Traveline Cymru's Twitter account at the following times:

9am, 12pm, 3pm and 6pm.

The competition will then close at 9pm. If you've missed any topics, simply head to Traveline Cymru's Twitter account to see all the themes.
At the end of the day, once you've snapped your 12 photos, you'll need to create a photo montage using an app like flipagram and share it via social media using #myunijourneyswansea to enter.
What's the criteria? 
You must have proof that you are a Swansea University student or staff member
Photos must have been taken on Swansea University grounds - so either of the two campuses or student village
You have to use public transport to get around to take the photos.
What can I win?
After the Photomarathon day, all the montages are collated and judged by a panel including Jayne Cornelius of Swansea University and Laura Thomas of Traveline Cymru to decide the winners. There are two prizes up for grabs – one for the best set of 12 photographs who would win £100 Love2Shop voucher and one for the best overall photograph who would win £50 Love2Shop voucher.
For more information and to register your interest in taking part please email marketing@traveline.cymru with the subject #myunijourneyswansea photomarathon or message us on our social media channels @travelinecymru or /travelinecymru using the same hashtag.
All blogs
Share this post