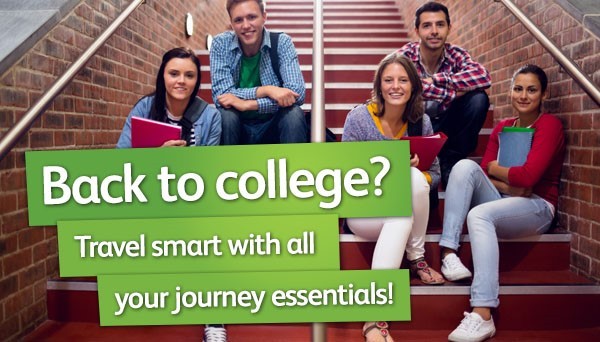 Back to College? First Assignment: Get Travel Smart!
04 September 2015
---
The end of the summer holidays can mean a whole host of different things; the cold winds are drawing in, and those luxurious weeks off school in the sunshine seem a glorious memory. However, for many of us, this means the start of a whole new chapter – a brand new year at school, college or University! The summer holidays may have come to an end, but starting back at college can be an exciting time, from catching up with old friends, making new ones and of course getting stuck in to your new courses!
If it's your first year at a new college, you might find that catching the bus can be your perfect means of getting around your new campus and town. It's a great way to become more independent, and avoid you using the taxi of Mum and Dad!
You don't just have to use the bus to get to your campus too; you and your friends could easily hop on the bus into town during your breaks! You may even find it's not only a great way to reduce your carbon footprint but could also be a cheaper option than taking your own car.
Wherever you're starting this September, we're here to help you make your journeys and find all the transport info you need. Have a look below at some of our top tips to make you travel smart!

Download the Traveline Cymru app for your phone 
You can find all the info you need on the go by downloading our recently upgraded mobile app! Use it to find public transport routes for your journey, timetables, save your favourite bus stops and more!
To download the Android app, visit the Google Play store or click here.
To download the iPhone app, visit the Apple store or click here.
Don't have a smartphone? Don't worry, as you can also use our text service to find the bus times you need! All the info you need on our app and text services can be found by clicking here.

Are you aged between 16 - 18 years old? 
Then you're in luck! Check out mytravelpass, a brand new Welsh Government scheme which launched last week. Presenting a mytravelpass card on the bus will give 16 - 18 year olds 1/3 off their bus travel. As a teenager, you might find that travelling on the bus is your easiest way of getting around, especially if you can't drive or have a car of your own. And what's more, the pass is completely free!
Want your own mytravelpass? Simply go to www.mytravelpass.gov.uk to apply online, or ring the mytravelpass team on 0300 200 22 33 to get started.

...Or about to start University?
If you're heading to a new city to start your degree, keep a look out for us as we'll be out and about at a number of Uni and College campuses for the Freshers fairs through September!
We'll be getting into the fresher spirit, ready to chat to you all and give you some helpful travel info for making your way around your new city. Have a look below to see where we'll be & if we'll be coming to your Uni!


Wednesday 9th September:
Coleg Cymoed, Nantgarw campus

Tuesday 15th September:
Cardiff and Vale College, Cardiff campus


Thursday 17th September:
Cardiff and Vale College, Barry campus


Monday 21st September:
Aberystwyth University
Cardiff University
 
Tuesday 22nd September:
Cardiff University
Swansea University
University of South Wales, Treforest campus


Wednesday 23rd September:
Swansea University
Bangor University


Thursday 24th September:
Bangor University


Let us know where you'll be this September; we're looking forward to getting out and speaking to you all and good luck for a brand new term!
All blogs
Share this post