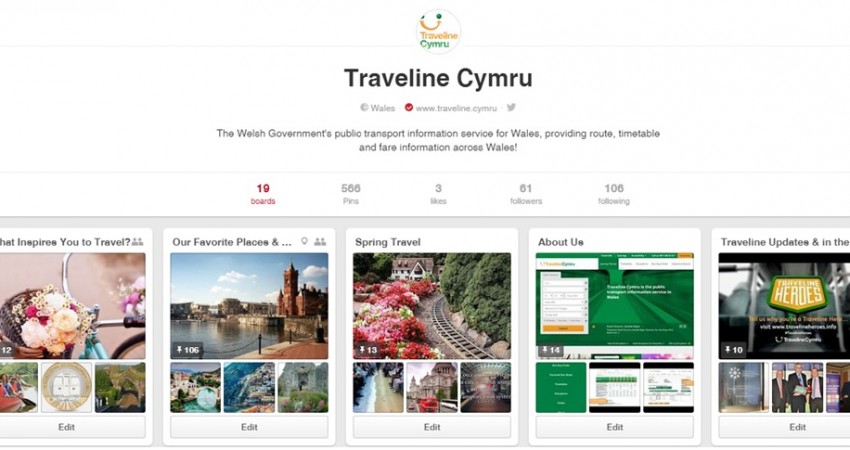 What Inspires You to Travel..? Join us on our Pinterest Group Boards!
15 June 2015
---
When it comes to social media, our team here at Traveline Cymru love to share our favourite images on Pinterest. Never come across this before? Pinterest is an image-sharing website where you can browse, like and share images of anything you think of to your profile for your friends and other users to see!
Here at Traveline Cymru, we love to use Pinterest as a way for us to share with you all our inspirations for getting out and about on public transport and exploring our surroundings sustainably. Perhaps you travel regularly by bus or train to commute to your place of work? Or even go walking or cycling around your favourite places on the weekends? No matter what it is that gets you out trying new ways of transport, there are some really great ways to travel sustainably and to slowly incorporate these into our everyday lives. We may even notice benefits to our health and wallets, as well as making the most of exploring our local areas!
So for any of you Pinterest lovers, we'd like to invite to join our two new group boards on our Pinterest profile below!


On this board, we've been sharing photos of all our favourite locations in and around Wales! What are your favourite places to visit? Share them with us on our board and maybe discover some new locations that may be closer to you than you think!
Do you enjoy travelling for time alone to clear your mind? Perhaps you have a favourite album or book you can lose yourself in on a long journey, or do you simply enjoy watching the scenic surroundings pass by? Whatever it is that makes you get on public transport, we'd love to see your inspirations!

Of course, if browsing through Pinterest has inspired you to make the most of the public transport services near you, we're always on hand to help with any transport queries you may have. You can use our journey planner to search for your most convenient route by bus or train, where you will also be able to view maps of your journey, along with timetable information for your service.
To make planning your journey that bit easier and more convenient, you can now register an account with us here on our website. By doing this, you will be able to save your favourite journeys, timetables and bus stops so you'll always have the information you need most right at your fingertips. Click the 'Login' button at the top right of this page to find out more if you're interested!
Let us know if you've been converted to Pinterest and are enjoying the image-sharing social network site! We look forward to seeing your pins!
Give us a follow at pinterest.com/TravelineCymru
All blogs
Share this post