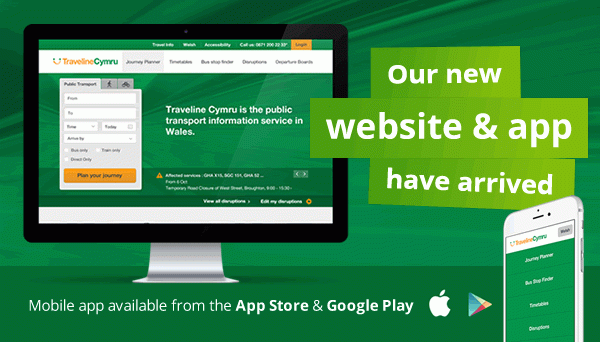 Welcome to our New Website!
22 April 2015
---
After months of design, development and hard work, we're very excited and proud to launch our brand new website and mobile app! After listening to customer feedback, we wanted to make our journey planning services as straightforward and simple to use as possible. The new website has some new and enhanced features and will allow you to plan a journey right across the UK.
To help you get started, we've put together a step by step guide below on how to use our services, so you can navigate your way around with ease:
Website
How can I plan a journey?
Go to our Journey Planner found on the homepage. Enter the start point of your journey, your destination along with the date and time you wish to travel. There is also the option to select whether you would like to travel by bus, train or direct only, as well as the option to enter your average walk speed and desired number of stop changes. When you then click 'Plan my journey', you will be provided with the available routes for your journey selection. Click on your preferred time, and the full journey details will be displayed, with maps of the journey, timetables, fare information and any disruptions.
How do I find timetables?
Go to our Timetables page and you will be able to search for timetables either by their service number, or your location. Once you've filled in the search fields and clicked 'Search' a list of timetables matching your criteria will be displayed. Click on a timetable to confirm your choice and you will then be shown the full timetable information, along with a route map. There is also the option at the bottom of the page to download the traditional PDF timetable if you prefer.
How do I use the Bus Stop Finder?
Enter your location or bus stop code (if known) into the search box, and the interactive map will display the bus stops located in that area. Click on the orange icons to select a bus stop, and the details of this stop will appear, along with the times of the next buses due to arrive. The service number of the buses will be displayed here, and you can click these to open the timetable for that service.
How do I register an account and what does it do?
On the top right corner of our website, click on the 'Login' button. You can then fill in the registration form to set up your account. Having an account will allow you to save your favourite stops, journeys and timetables, making them easily accessible straight from your account. You will also be able to view disruptions for services you have selected as a favourite.
How do I save my favourite journeys, timetables and bus stops?
Once you have found a journey, timetable or bus stop through the website, there will be an option on the page to 'Add to favourites'. If you click this, the journey, timetable or bus stop will appear in your account.
How do I search for disruptions?
If you go onto our disruptions page, all planned public transport disruptions that we are aware of will be listed here. There is also the option for you to search for disruptions by service number and operator, so you can filter the results to what you need.
What are 'My disruptions'?
When you have a favourite journey, timetable or bus stop saved in your account, 'My disruptions' will only display disruptions in place for the services that you have in your favourites.
Where can I find fare information?
Fare information can be found through the results of our journey planner. Where the journey details are listed, there is an option to 'View fares'. Click this, and a list of available tickets and prices will be displayed. For more information, please see our Fares page. Alternatively, you can get in touch with our Contact Centre on 0871 200 22 33.*
Mobile App for iPhone and Android
The new update of our Traveline Cymru mobile app now features an enhanced version of the Journey planner and you will now also have the option to search for timetables. When using the app, you will able to save your favourite journeys as well as view any disruptions for the services you have saved.
The app is currently available on iPhone and Android devices. Make sure to update your version of the app if you have it already downloaded!
To download the app for iPhone, please visit the iTunes App Store.
To download the app for Android, please visit Google Play.
We hope you enjoy the new features and that you are able to find all the information you need!
We'd be really grateful to hear your thoughts on the new and updated features; if you have any feedback that you would like to make, please contact us through our feedback form here and we look forward to hearing your thoughts!
*Calls cost 10p per minute, plus any charges your network provider makes.
All blogs
Share this post