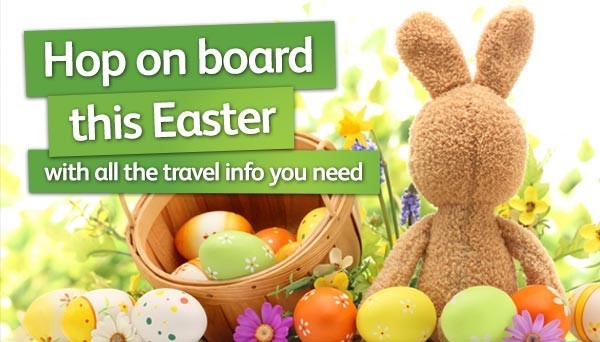 Hop on Board this Easter!
01 April 2015
---
With the clocks going forward this weekend and the lighter nights already starting to draw in, Easter seems to have sprung on us quickly this year. Though still a little chilly outside, we wouldn't blame you for planning your trips away over the long Easter weekend to embrace the sunshine!
However, the Easter period can mean some changes to public transport routes; if you're thinking of using public transport over the Easter weekend, we're here to help keep you informed with any changes that may affect your trip. So we have got together and compiled our top tips below to help, so you can make your journeys with ease!
 
1. Check our Easter Travel page
Some services may be operating altered timetables on certain days, so please do check our Easter Travel page for all the information you'll need on what service arrangements are in place near you.
 
2. Give us a call on 0871 200 22 33
If you're unsure of any changes, you can give us a ring on 0871 200 22 33 and our friendly team at our Contact Centre will be on hand to help with any journey queries you may have.
We understand how reassuring it can be to speak to someone in person, so whether you're planning your trip or out in town and looking for the next bus home, make sure you have our number saved to your phone just in case. (Calls cost 10p per minute, plus any network charges.)
Alternatively, you can also see our Useful Links page for information on operators who may be able to help you further.
 
3. Follow us on Twitter @TravelineCymru
We love using social media when we're on the go! If you need quick information when you're out and about over the weekend, you can follow us on Twitter @TravelineCymru where we will be re-tweeting any Easter updates as they happen. Feel free to tweet us any questions you may have and we'll do our best to help – why not tweet us a picture of your Easter celebrations at the same time!
 
4. Plan your Easter journeys!
Wherever you're thinking of going this Easter break, public transport can be a great means to make your way around. With many of us making the most of a long weekend, it can save you the effort of making your way through busy traffic and trying to find a parking space. Just sit back, relax and enjoy the trip!
Not sure where to start? Our journey planner can help you find the best public transport routes available for your journey, with bus timetables, maps, fare information and more. Watch our video guide below to take you through how to use the planner step by step if you're unsure of any features.
Have a wonderful Easter, and safe travels wherever your journeys take you!
Visit Traveline Cymru's profile on Pinterest.


All blogs
Share this post