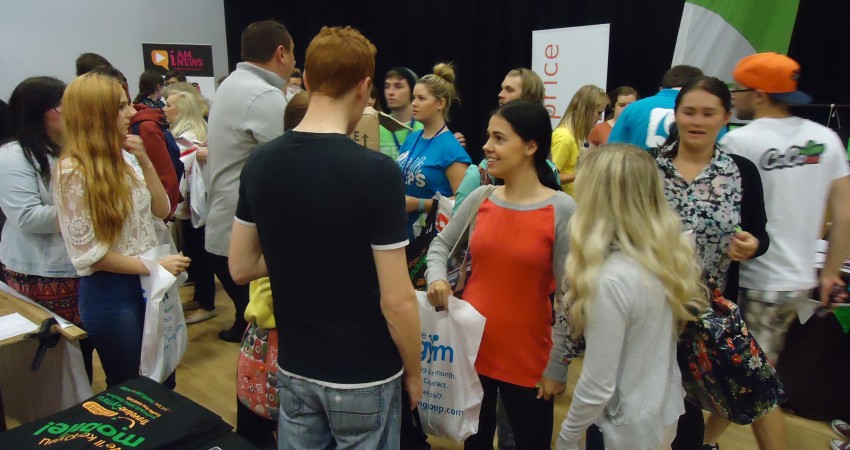 Our Freshers' Week Journey 2014
13 October 2014
---
Freshers' Week has always been a fantastic way for us to get out across the country and meet new students; it's the perfect opportunity to help students who have moved to a new city find the information they need to help make an informed journey, as well as reach out to students more familiar with the area. We had an extremely busy week last year, meeting lots of friendly students and this year was no exception.
Throughout the course of September, our Marketing team were out attending a variety of University fairs across Wales, informing students about Traveline Cymru and how they can use our services to help make travelling around their University towns that bit easier. Freshers' Week itself was a huge success, with each of the events more busy and eventful than the year before – with lots of students exploring the stands, we managed to hand out 4,000 goodie bags across the week!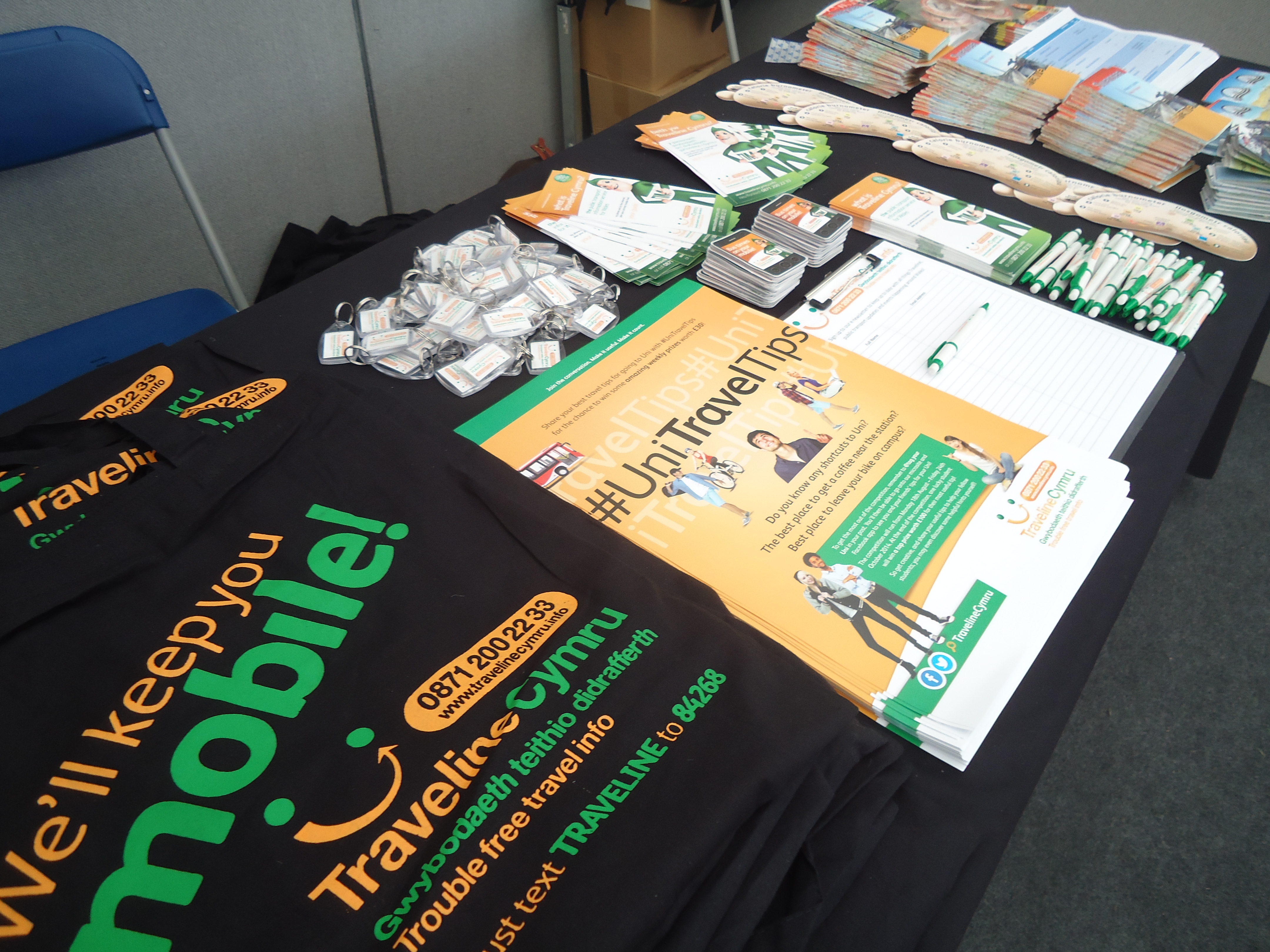 Our information & freebies on offer across the Freshers' Fairs
Freshers' Week kicked off in full swing with our team attending fairs at Aberystwyth University, Cardiff University and Cardiff Met. Each of the fairs were extremely busy, and it was encouraging to see so many students asking questions and interested in finding out information about our services. It was also a great opportunity for us to inform students about our #UniTravelTips student competition, and to encourage students to get involved for the chance to win some big prizes!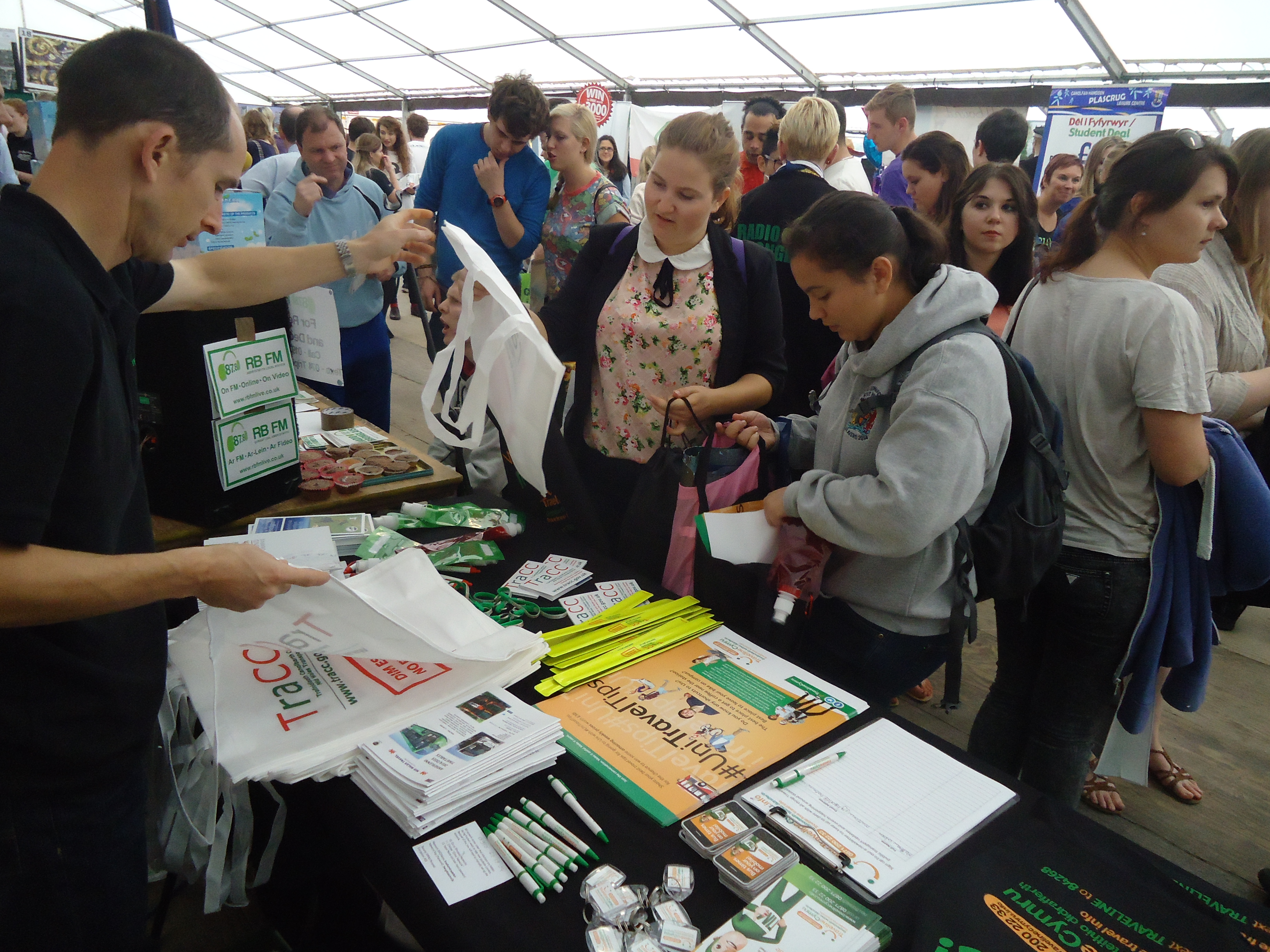 Students picking up information at Aberystwyth University
We were also very happy to be joined by our Service Quality Assistant Adam Keenor at a number of events throughout the week; it's great to have members of our Data team experience such busy events and have the opportunity to interact with the students on a face-to-face level. Here's what Adam had to say about his time during Freshers' Week!
"Having only been at Traveline Cymru for 4 months, this was my first time attending Freshers' Fairs with them. It was weird and a tad scary being behind the stalls rather than approaching them as the student, like in previous years, but I quickly got into the spirit of things. The students were very friendly and several had very interesting questions to ask but, being one of the guys that upload the data to the website, I felt I knew most of the answers. I thoroughly enjoyed the events I attended and talking to the people I met. It was a great way to meet the people that use our website and app and to generate interest in what we do behind the scenes."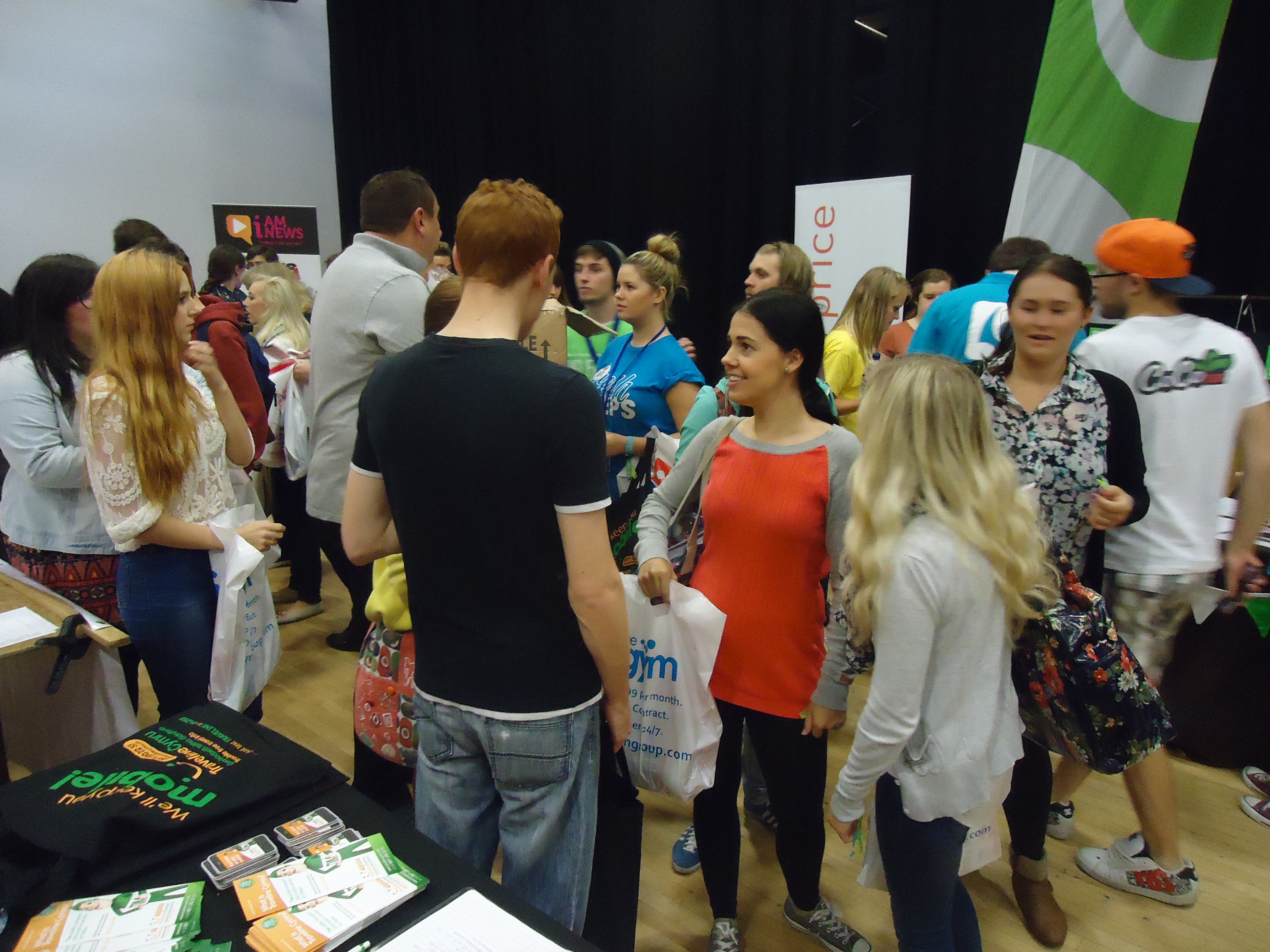 Our Service Quality Assistant Adam Keenor speaking to students at Swansea Met
As the week continued at the University of South Wales Treforest campus, we were joined by the team at Stagecoach, which helped make for a great experience as they were able to answer questions students had about specific services in more detail. One highlight of the week for us was Bangor University; the students were really friendly and enthusiastic and it was great to hear that the majority of students travel either by public transport or walk, so our services are extremely beneficial to them.
Our expectations were also much exceeded at Swansea University, where students had picked up all of our goodie bags by midday! We were located in a brilliant spot for both of these events, and students were keen to stop and talk to us.
Our Digital Marketing Officer Rachel Pewsey said: "It's been great to speak to a wide range of not only new students, but existing ones as well and talk to them about their travel queries. All the students were keen to pick up information and engage with us, which really makes the fairs a worthwhile experience!"
You can have a look at photos from across the Freshers' Fairs over on our Facebook page. Freshers' Week is always a highlight for us, and we look forward to meeting more students next year!
All blogs
Share this post