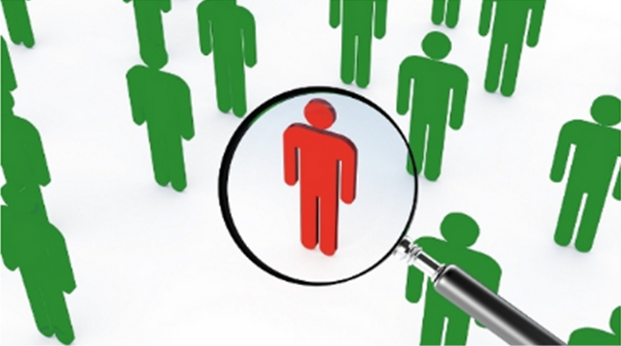 The Launch of Share Cymru, the Journey Sharing Scheme in Wales
31 March 2014
---
Held at the Liberty Stadium in Swansea, Tuesday 18th February saw the launch of Share Cymru, the first and only bilingual journey sharing scheme for Wales.
The new Share Cymru scheme was designed by Carbon Heroes on behalf of the Welsh Government, and it replaces four separate regional car share schemes that existed up until January 2013. Following feedback that the separate schemes caused some confusion, the Share Cymru website now provides one central point of contact for all potential car sharers around Wales.
The scheme is designed to help match up peoples routes so they can make their journey together. Car sharing is becoming an increasingly popular form of travel among car drivers and passengers around the world. However, what makes Share Cymru stand out is that the scheme is not just for car sharers alone. Users can also choose other modes of transport to share besides the car, such as cycling, taxi sharing or even finding someone to walk with. By going onto the new Share Cymru website, you can enter your one-off or regular journeys and will then be able to find others who are making the same trip as you.
Once everyone had arrived, Claire Bennett from the Welsh Government welcomed the guests and introduced the Share Cymru scheme. Engaging with more sustainable modes of travel is something we all may like to do more, however, sometimes it's hard to escape the fact that using the car may be the most viable option for some journeys. Car sharing then helps to provide an alternative that car users can be involved with, enabling them to travel more sustainably. The scheme ultimately helps to reduce single occupancy in cars, reduce congestion and also helps to save money on petrol costs. Claire explained however that car sharing is not meant to replace public transport, but rather offer an additional travel option for people making journeys whereby taking the car is still the most practical option.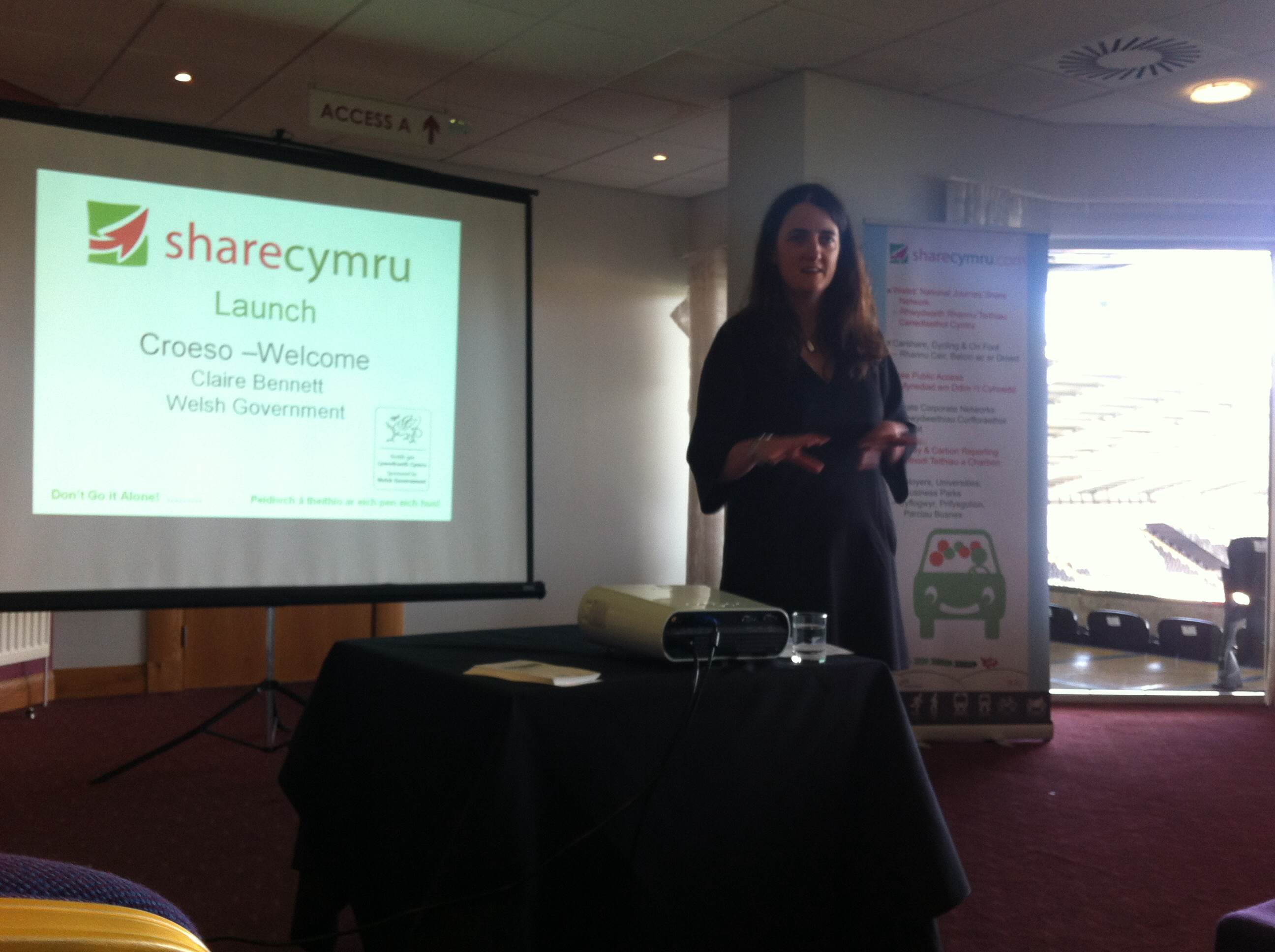 Craig Barrack, Managing Director of Carbon Heroes then offered some background information on the research and design of the Share Cymru website. As well as being able to register your journey, the website also provides useful information for users, such as carbon and cost savings as well as safety information.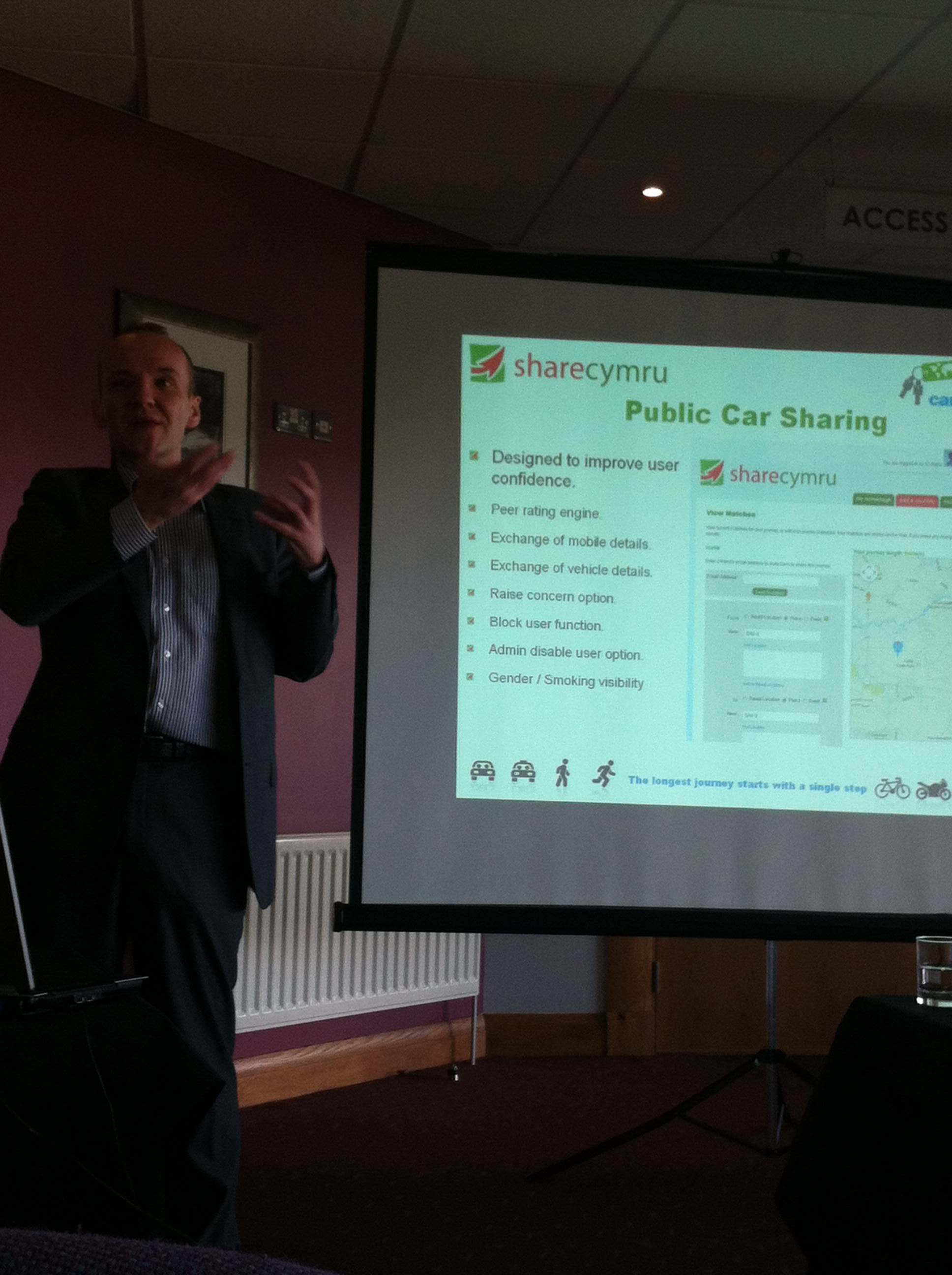 Jayne Cornelius, Regional Travel Plan Coordinator for the scheme was up next, and demonstrated how to use Share Cymru and how to register a journey. She also tackled the issue that some may see car sharing as unsafe, and explained the best and most sensible practices to go about meeting other car or journey sharers. She encouraged people to spread the word between friends and colleagues to raise awareness and to find potential people to start sharing with. Simply by having someone to walk home with could be an ideal situation for someone who may be working night shifts for example, and see it safer and more sensible to walk with company.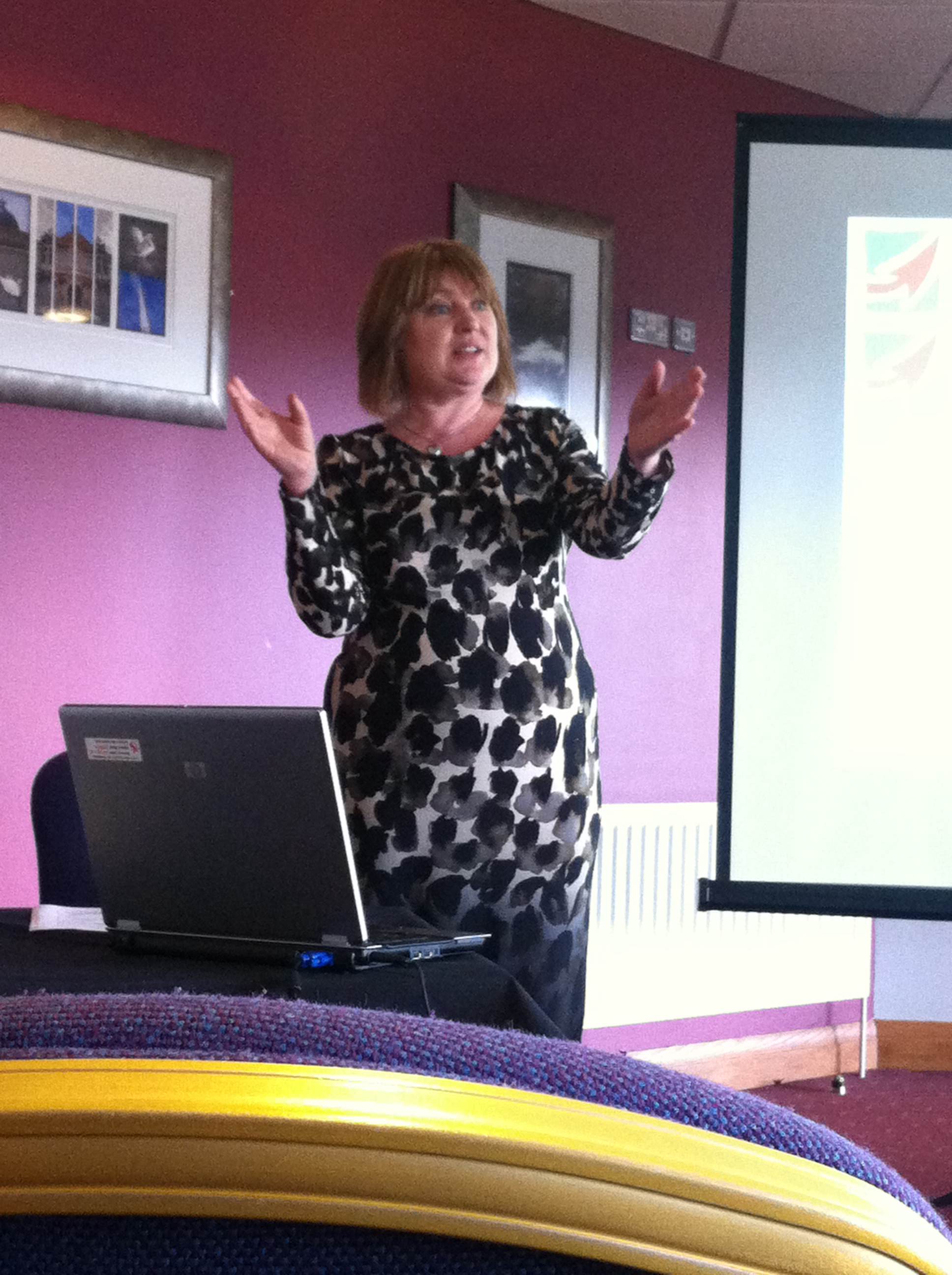 Jayne: "Share Cymru is the first bilingual all Wales scheme available to match drivers and passengers for any journeys they make, whether a one off or regular journey. The benefits are that you save money, and socialise at the same time. Don't want to travel by car? Well why not register as a bike buddy or walking buddy."
Jayne also encouraged us to share stories from any of our journey sharing experiences; the scheme can be a great way to bring people together whilst also looking out for the environment, so why not register your journey today and see where it takes you?
For more information on the scheme, please click here to read the Share Cymru information leaflet or visit the website to get started!
 Visit Traveline Cymru's profile on Pinterest.


All blogs
Share this post