Cardiff's St David's House will begin its redevelopment in January 2019. As a result, bus stops JA, JC and JD on Wood Street in the city centre will not be in use and the services below will use different stops from Sunday 6th of January.
Service 4 – buses will end on Westgate Street KH (Royal Hotel)
Service 18 – buses will follow the same route as service 17 into the city centre via Cardiff Bridge, Castle Street and Westgate Street. As a result, service 18 will no longer serve stops on Neville Street, Clare Street, Tudor Street or Wood Street. Service 18 will continue to serve stop KL on Westgate Street, but will also set down at stops KD and KJ on the same street.
Service 54 towards Cyncoed – buses will use stop JV on Wood Street which is situated outside Southgate House.
Services 92, 93, 94 – journeys will start and end at stop JQ on Wood Street. This is a new stop which will be located on the opposite side of the road outside the BBC Wales building. As a result, journeys will begin 1 minute later Monday – Saturday daytimes.*
*The relocation of the stop maybe delayed by 7-10 days, please keep a look out for further announcements.
Service 95 towards UHW Heath Hospital – buses will use stop KP on Westgate Street rather than Wood Street.
Service 95, 95A, 95B, 95C towards Barry and Penarth – buses will stop at 'Tudor Street Lane' bus stop rather than the last bus stop on the street.
Services 95A, 95B, 95C – journeys to the city centre will set down at Wood Street JV which is situated outside Southgate House. In addition to this, service 95B will not serve Cogan Leisure Centre from this date.
Services 96 and 96A – journeys to Cardiff will enter the city centre via Cardiff Bridge and Westgate Street in place of Neville Street and Tudor Street. Buses will set down at stops KD and KH on Westgate Street. Journeys will begin as normal at stop KM on Westgate Street.
Service X45 – journeys to St Mellons will not stop on Wood Street but will continue to Westgate Street (Royal Hotel)
Service X91 – journeys into the city centre will stop on Canal Street. The 07:00 from Llantwit Major will continue to extend through to Churchill Way.
Click here to view the updated city centre bus stop map.
As a consequence of developments taking place in the centre of Cardiff, from 2nd January 2019 the bus stops on the north side of Wood Street and the bus stop in Customhouse Street will need to be closed.
Therefore, from 2nd January 2019: Service X2 to Bridgend and Porthcawl will relocate from Wood Street to Westgate Street, bus stop KP.
From 7th January 2019: Service X10 to Swansea will relocate from Customhouse Street to Penarth Road, bus stop JM.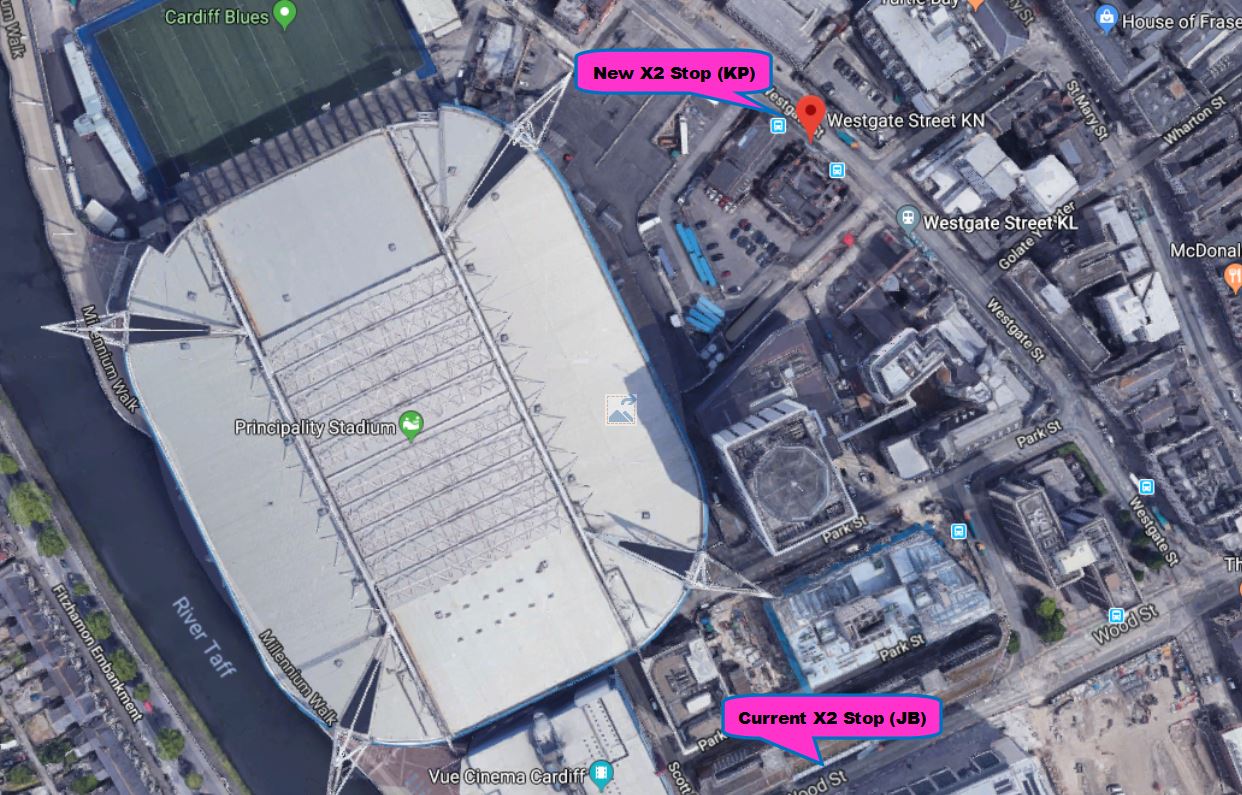 From Monday 7th January 2019, the T9 and T1C services will be moving. Due to the removal of the bus stops we use on Customhouse Street, the T9 will terminate along Canal Street (stop JF), and the T1c will terminate on Penarth Road (stop JN/Central Station).
Take a look at the map below to find out where the new stops are located: