The following road closures will be in place for 'Judgement Day 2019' at the Principality Stadium, Cardiff on 27/4/2019 between the hours of 13:00 and 20:00.
Newport Dragons v Llanelli Scarlets – Kick-off 15:00
Cardiff Blues v Swansea Ospreys – Kick-off 17:15
Kingsway from its junction with North Rd to its junction with Duke Street
Cowbridge Road East from its junction with Cathedral Road to its junction with Westgate Street.
Tudor Street from its junction with Clare Road to its junction with Wood Street (access for residents & traders will be permitted via Fitzhammon Embankment)
Plantagenet Street & Beauchamp Street from their junctions with Despenser Place to their junctions with Tudor Streer (access for residents & traders will be permitted)
Saunders Road from its junction with St Mary Street
Customhouse Street throughout its length (access to private car parks will be permitted)
Penarth Road from its junction with Saunders Road to the entrance leading into the rear of the Central Train Station

However from early in the day (7am) Scott Road & Park Street will be closed as a result of the need to prepare Gate 5 and to protect queuing fans.
The following roads will be closed in their entirety: - Duke Street, Castle Street, High Street, St. Mary Street, Caroline Street, Wood Street, Central Square, Westgate Street, Quay Street, Guildhall Place, Golate, Park Street, Havelock Street & Scott Road.
Additions: Please note within this area Carten 100 will also be taking place within the controlled road closure. Civic Centre: Access to part of the Civic Centre will be controlled throughout the day, with access allowed only for concert parking, limited commuter parking, loading and access to private car parks. Roads affected include: King Edward VII Avenue, Museum Avenue, City Hall Road.
Stagecoach:
All Stagecoach buses will start and terminate at Greyfriars Road all day.
Buses 25 & 132 will start/end at Greyfriars Road.
Buses 122 & 124 after 12:00 midday will NOT serve Cathedral Road, but will run via North Road to/from Greyfriars Road.
Newport Bus
Due to Judgement Day, 30 Service will terminate and depart from Greyfriars Road (Stand GG) between 13:00- 20:00 hours. Saturday Night diversion will be in place from 20:00 hours as normal.
New Adventure Travel
There will be diversions in place for the 89A/B, 320, T1C, T9, X1, X5 and X8 services.
Please click here to see maps for these diversion routes.
Cardiff Bus:
Saturday 27th April- 13:00 until 20:00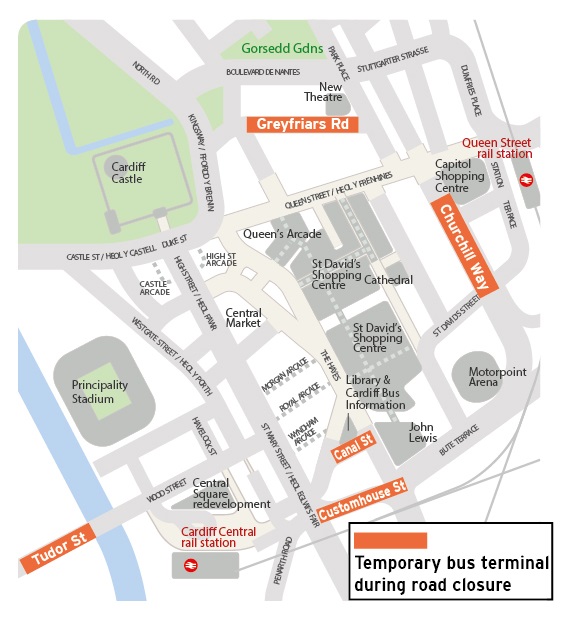 Route Number
City Centre Terminal Point
1 and 2

▲

Hayes Bridge Road (JH)
6 (baycar) ●
Customhouse Street
8, 9 and 9C to Cardiff Bay or Sports Village
Hayes Bridge Road (JH)
8, 9 to Heath Hospital
Churchill Way
11
Churchill Way
13 to Cardiff Bay and Sports Village
Hayes Bridge Road (JH)
13 to Drope
Tudor Street
15
Tudor Street
17 and 18
Tudor Street
21, 23 and 24
Greyfriars Road
25
Tudor Street
27
Greyfriars Road
28, 28A and 28B
Greyfriars Road
30
Greyfriars Road
35
Greyfriars Road
44, 45, 45B
Churchill Way
49 and 50
Churchill Way
51
Churchill Way
52
Churchill Way
53
Greyfriars Road
57 and 58
Churchill Way
61
Tudor Street
63 and 63A
Tudor Street
64
Tudor Street
66
Tudor Street
91*
Customhouse Street (*runs during summer months only)
92, 92B, 93, 94 and 94B
Customhouse Street until 19:00 or Tudor Street after 19:00 until end of closure Mondays to Saturdays. On Sundays and Bank Holiday Mondays buses arrive and depart from Tudor Street all day.
95 to Barry
Tudor Street
95 to Heath Hospital
Greyfriars Road
95A and 95B
Tudor Street
96 and 96A
Tudor Street
X45 towards St Mellons
Churchill Way
X45 towards Cardiff Bay Retail Park
Hayes Bridge Road (JH)
X59
Dumfries Place HT (all day)
CCFC Shuttle Bus
Tudor Street
▲ On event day services 1 and 2 do not serve the rear of Central Railway Station (Stop JM & JN) from the time roads are closed.
● On event day baycar runs between City Centre (Customhouse Street – JG) and Cardiff Bay only and does not serve the city centre loop or rear of Central Railway Station (stop JM) from the time roads are closed.
Transport for Wales:
Cardiff Queen Street station will close at 17:00

For public safety, a queueing system will be in place at Cardiff Central station after the game. Please click here to see an overview of this system.

For return journeys, customers for Newport and for rail replacement bus connections to Bristol Parkway and Bristol Temple Meads, please use the Newport queue.
Please visit the Transport for Wales website for more information and for live updates on the status of your journey.